Shoutbox 
Only logged in users are allowed to enter the chat
About a Loft (Views: 0 )
---
---
Property Type: Residential
Condition: Fully Furnished
Bedrooms: 1
Price: §87,493
Lot Size: 2×3
Extra Info:
Contains custom content
Content is not included
---
Anthony and Misty Green came into a bit of money, they decided to buy a section in the burbs and build their dream home
Partway through building they stood looking at it thinking they were not the contempoary suburban type people with the white picket fence kids and a people mover, so they slapped a sale sign on the property and went downtown to find the perfect house for them.
They found it in the middle of the CBD in amongst the hustle and bustle of the city life, homeless people under bus stops, graffetti on walls and all the noise of the city, an absolute gem of a property.
They loved the urban slight rundown look on the outside, and the sleek raw interior on the inside, with a ton of space and the odd old fixture here and there, Anthony and Misty Grenn knew they had found home.
There is quite a bit of cc in this one, I did want to finish off stacking the bookshelves full of goodies but it would have made even more, so I curbed it, something very hard for me to do!
You will also need to download buggybooz Kitchen basic for some of the kitchen https://buggybooz.blogspot.co.nz/2008/03/kitchenbasic-up-to-date.html and if you would like Blake_boys lovely modular sofa to work as a modular sofa you will need the sectional hack by Inge https://www.modthesims.info/download.php?t=189428. First important bits done onto the picture spam!
---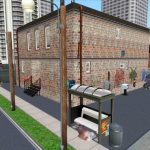 ---
Required Expansion Packs:









Required Stuff Packs:








You must be a logged in member to download this file