Shoutbox 
Only logged in users are allowed to enter the chat
Thrushcross Grange (Views: 5,998 )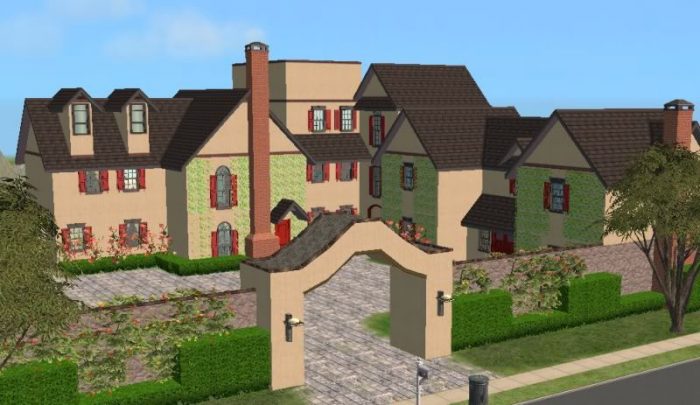 ---
---
Property Type: Residential
Condition: Fully Furnished
Bedrooms: 7
Price: §286,363
Lot Size: 5×5
Extra Info:
Contains custom content
Content is included
---
Thrushcross Grange was the elegant and luxurious home of the Lintons, civilized neighbors of the Earnshaws who lived at Wuthering Heights.
The Grange is a huge mansion with 7 bedrooms, 5.5 bathrooms, and two empty attic rooms that could easily be remodeled into more bedrooms. The barn also has a large attic space accessible by stairs. Here are floor plan photos:
Edgar and Isabella Linton lived a spoiled and idyllic life at Thrushcross Grange until Heathcliff and Catherine from Wuthering Heights intruded on them. They snuck over and spied on the Lintons.
Heathcliff and Catherine giggled as they watched Edgar and Isabella through the parlor, kitchen, or dining room windows.
When Heathcliff and Catherine were discovered, Heathcliff was sent packing, but the Lintons were very hospitable to Catherine. She stayed with the Lintons for several days, recovering from a dog bite. She had the run of the house. Here are the upstairs rooms Catherine got to see.
When Catherine went home, the Lintons could have gone back to their normal, happy lives, but it was too late. Edgar was already madly in love with Catherine which unfortunately had disastrous consequences for him and Isabella. Luckily, you are in control of your sims' lives so if you move them into Thrushcross Grange, you can give them their own happy ending.
There are not horses included with this download but you can get them from
Dragon Slave: https://www.modthesims.info/d/257255
Beautiful custom plants are by steffor:
https://www.thesimsresource.com/downloads/details/category/sims2-meshes-objects/title/takka–plant/id/1068416/
Custom walls, floors, and furniture recolors are by me.
---
---
You must be a logged in member to download this file