Wall & Floors
Post Views: 121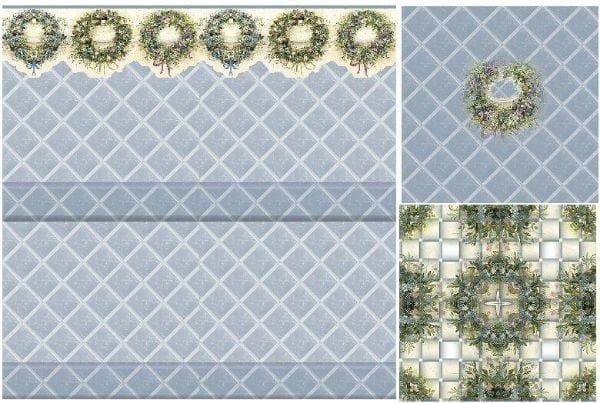 ---
Add to favorites     
---
Item Type: Misc
Function: Sets
Room: Kitchen
Price: §Wls 20
3 Wreaths on Blue
A beautiful light blue diamond wall design, with 3 wreaths border at the top and a chair guard and kick molding of the same design, just a little darker in the blue color.
fl1 is the same background as the wall with a wreath in the center.
fl2 is a weave floor in white with partial wreaths on all corners and a large wreath in the center.
4 Different Cactus
Wl- at top has a border with a shelf and a deep red background, with 4 cactus and 2 shells with the lower wall being tiled with a peach diamond pattern and a deep red diamond pattern and then the border on half of other tiles.
Fl1-has the same pattern as what is in the tile part of wall, the peachy etched pattern and the border on an angle.
Fl2-is brick, with the same red etched pattern and the border on other bricks on angle
4 The Birds
Wl-at top is a window with a shelfi with glass vases and a bird sitting on a stand, a starfish and greenery, lower wall is tile with greenery on all with a white background
Fl1-tile, with the same pattern & color as lower wall
Fl2-is a wood tile with same color and design as lower wall
A Birds Castle:
Border @ top has two bird houses sitting in the sand, one is a castle the other is a lighthhouse….the wall is a blue scrambles texture. The flrs(2) are created from the pattern border.. one has the light house pattern and the other has the castle pattern….really beautiful colors, both floors are tile.
A Blue Bathroom
Wl & Fl are of tile with blue flowers and plain light blue squares
A Brown Damask
Wl- At top is a border with 2 candle lamps, an apple, then a basket with berries in them. lower wall is a dark brown color with a white pattern or flowers, leaves, spades and more.
Fl1-is tile and the lower pattern from wall is on half of the tiles while the rest of the tiles have an etched pattern
Credit to – – chilili @www.simfansuk.com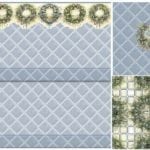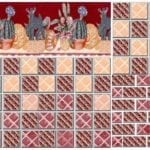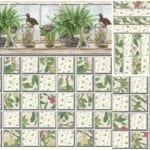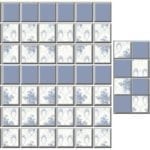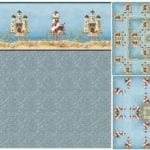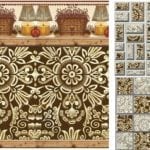 Required Expansion Packs:









Required Stuff Packs:











You must be a logged in member to download this file