Shoutbox 
Only logged in users are allowed to enter the chat
Back to Basics (Views: 2,420 )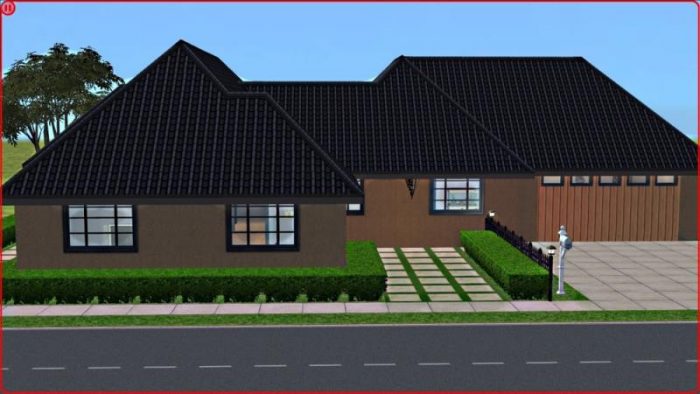 ---
---
Property Type: Residential
Condition: Fully Furnished
Bedrooms: 3
Price: §84046
Lot Size: 2×3
Extra Info:
Contains custom content
Content is included
---
I decided to make a playable house as frankly Im a bit sick of trying to navigate the camera between trees and around 'stuff'! So for this house I havnt used move_objects on, or any other cheats which is a big thing for me as I like to put things on top of things and in odd spots! Ok tell a lie I used it twice to place the mailbox and rubbish bin in a different spot but that hardly counts!!
Anyway this house has three bedrooms and 2 bathrooms, seperate living area and kitchen, patio out back. Fake garage but I think the measurements are correct to plop a real one in if you have NL.
I havnt used many trees so they wont get in the way there is a bit of hedging to trim but had to have something green! And I took the floor plan photo at night so you can see how well lit up it is.
Personally I think its an ugly looking house but I didnt build it to look nice just to be able to play without swearing at the screen!!
Have fun
Custom Content Included:
– Light Sandstone Grass by sarah*rose
– Secret Garden 10 by Margierytka
– Secret Garden 07 by Margierytka
---
---
You must be a logged in member to download this file