Shoutbox 
Only logged in users are allowed to enter the chat
Cypress Garden International Sim House Hunters Option 3 (Views: 4,004 )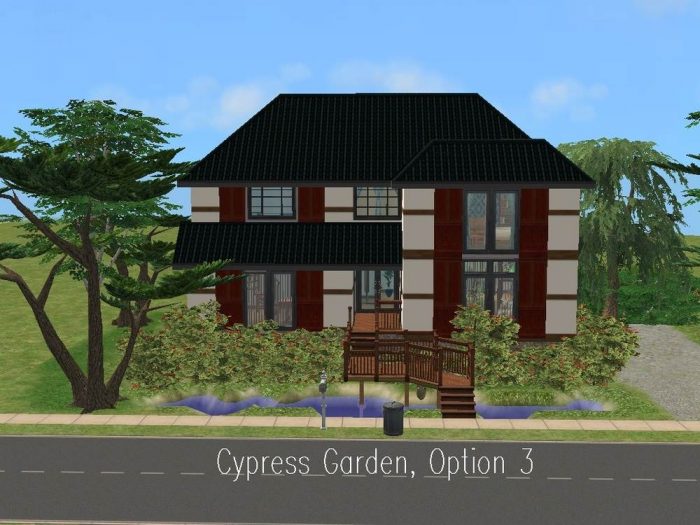 ---
---
Property Type: Residential
Condition: Fully Furnished
Bedrooms: 3
Price: §70,436
Lot Size: 3×2
Extra Info:
Contains custom content
Content is included
---
Ginger Baylor, lobbyist to the Far East has a third option in Cypress Garden, a 3 bedroom, 2 bath home located a good distance from the city. Ginger was intrigued when Miss Woo mentioned the words "fung shui" with regard to the simple furnishings of the house, but she wasn't really sure what that meant and didn't want to ask. When she googled it later, she wasn't sure that it applied to Cypress Garden, but nevertheless is still considering the house. She liked the feeling of space and lack of clutter in the house, thinking that she wouldn't have that much to dust. Like the other two houses Ginger saw, Cypress Garden, although surrounded by lush landscaping, doesn't have any shrubs that need to be trimmed by sims which is a plus for her. Since the house is fully furnished and actually the least expensive of her three options, Ginger is sorely tempted even though she will have to walk some distance to a bus stop and then have a 30 minute ride to work. Miss Woo, her patient and sympathetic realtor, has encouraged her to take her time considering.
Custom tiles, floors, and Victorian walls by Lady Angel.
Spiral staircase by Marvine at MTS:
https://www.modthesims.info/download.php?t=249237
Asian style wallpapers and Simplicity single bed and vertical blinds meshes by me.
---
---
You must be a logged in member to download this file