Shoutbox 
Only logged in users are allowed to enter the chat
Everyday Arizona (Views: 2,004 )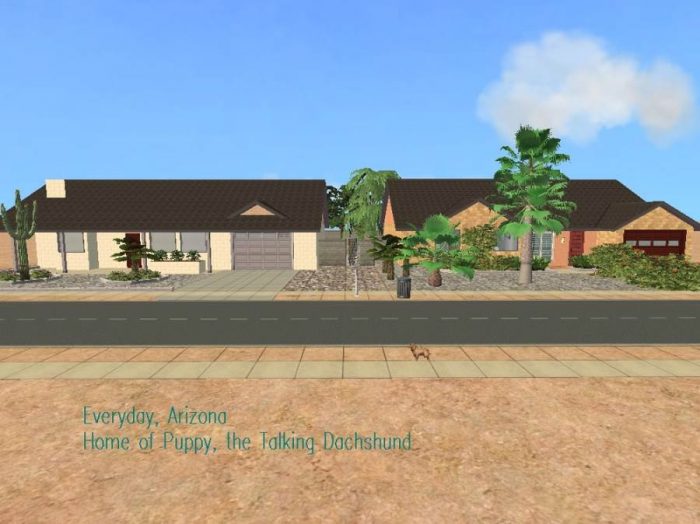 ---
---
Property Type: Residential
Condition: Fully Furnished
Bedrooms: 6
Price: §182,159
Lot Size: 5×5
Extra Info:
Contains custom content
Content is included
---
Everyday Arizona depicts a very middle-class neighborhood in Peoria, the home of Puppy, the Talking Dachshund, my new children's book https://www.amazon.com/My-Talking-Dac…/dp/151150661X. Here we don't have beautiful adobe architecture but we do have lots of gravel, cactus, and weeds. The two houses on this large lot each have 3 bedrooms, 2 baths, outdoor patios, garages, and desert landscaping. I moved in two families, an elderly couple, the Milsteads, and a young Mexican American family, the Perezes. Although the two families are friends in real-life, the Sim versions are too friendly, eating in each other's kitchens, sleeping in each other's beds, etc. I recommend turning the two houses in to apartments to avoid the over familiarity. The adorable dachshund in the screenshots is by Munchie@MTS:
https://modthesims.info/download.php?t=307499 and is not included in the download.
Also the realistic palms are not included but are available here:
https://modthesims.info/m/191013

The download contains quite a bit of game objects by me (taught to mesh by LadyAngel) including new Built in Bookcase and Single Decorative Shelf with photos. Also included Super Modern Bookcase, Decorative Blinds in white, Built in Hutch, Built in Kitchen Cabinet, Rustic Picnic Table in mahogany, Sleek and Modern Fireplace, and Shutters. Other cc by me includes walls and floors. I'm also including a separate file of cc that didn't show up in the clean installer list. CC by LadyAngel includes Izmir Dining Chairs.
Hope your Sims enjoy Everyday Arizona. If you want to see photos of the actual neighborhood with all its gravel glory, my book has it along with in depth character study of an actual dachshund. By the way, My Talking Dachshund is also available in Spanish, Mi Perro Salchicha Hablador.
https://www.amazon.com/Mi-Perro-Salch…ador+paperback
or Kindle version:https://www.amazon.com/Mi-Perro-Salch…hicha+hablador

I think that's everything! Thanks for reading!
Extra Info Numenor's fireplace template
---
---
Required Expansion Packs:



You must be a logged in member to download this file