Shoutbox 
Only logged in users are allowed to enter the chat
Fantasy Lot – Playable Pirate Ship (Views: 4,723 )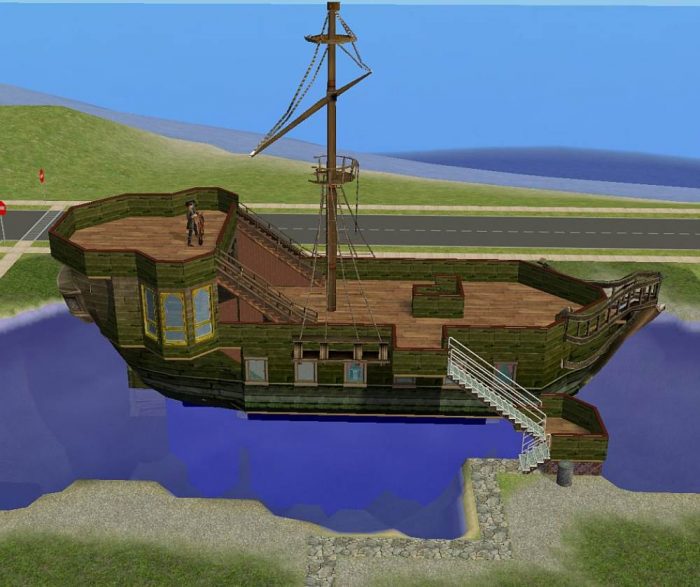 ---
---
Property Type: Residential
Condition: Fully Furnished
Bedrooms: 3
Price: §56.637
Lot Size: 4×3
Extra Info:
Contains custom content
Content is included
---
Fantasy Lot.
The house is shaped like a Pirate Ship and the advantage is that it will not summon any NPC or townie.

Sims can live in it. I cleaned the lot and probably some objects will not show up, as for example: my diagonal glass table (available at MTS2), the tram lights (posted here) and some other furniture items that you can choose from your own inventory.
The lot is packed as "Pirate Ship"; the necessary objects (wall papers and floors) are packaged in the file "Pirate Ship Objects". I included a doll that is not required at all, simulating a Pirate Captain navigating the ship.
The main part is the Pirate Ship object. It is heavy and has 7128 polys in One tile. It is not possible to distribute the weight in several tiles because it is a house and is placed on lake water.
The captain doll has 4644 polys and is just a decoration.
I used game stairs that are not the most proper to reduce cc. to minimum. You can replace by any stairs you may have and they fit exactly on the places they were meant to, without cheats. The final result is a very near approaching to the BV Pirate Ship. Why you could want it? Well, the original is the most complex object ever EA made and you don't take more than a couple of hours to get fed up of it. I didn't.
Please consider the capacity of your system when playing. I do so much craziness because I use a powerful GC on a powerful computer with 24GB ram installed. Yep, I shoot flies with cannons! 😀
---
---
Required Expansion Packs:









Required Stuff Packs:








You must be a logged in member to download this file