Shoutbox 
Only logged in users are allowed to enter the chat
Green Hills Mansion – No CC! (Views: 0 )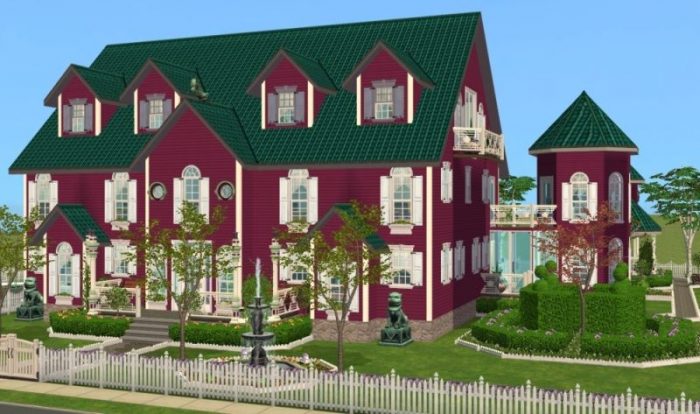 ---
---
Property Type: Residential
Condition: Fully Furnished
Bedrooms: 7
Price: §493,716
Lot Size: 4×4
---
Check out my new Facebook Fan Page for updates!
This is a beautiful large mansion costing §493,716 will sit upon a hill and look over the rest of their neighbourhood. Only the classiest of Sims will live in there or perhaps you would like to donate this house to a family of Sims who are challenged. The choice is yours but the possibilities in this house are endless!
The neighbours will be jealous of the class of your home. Sleeping up to 9 adults inside the house, a large family will be perfectly suited for this location. On top of this, a granny flat is built along with the garage which will sleep an additional 2 adults!
This lot is fully furnished + decorated and includes all necessary skill building objects, fire alarms, burglar alarms and telephones. Your Sims will be sure to enjoy the wonders of this house and enjoy it through many generations.
Main Level:
– Grand Entry Hall
– Side Entry Room
– Living Area
– Lounge Room
– Dining Hall
– Kitchen
– Breakfast Nook / Sunroom with backyard access.
– Washroom
– Disconnected Garage
Second Level:
– Master Suite (with Master Bathroom, Dressing Area, Rear Balcony, Sunroom/TV Room, third living space accessible via stealth staircase and additional side balcony)
– Guest Bedroom (1 double)
– Kids Room (2 singles with private rear balcony)
– Teen Room (1 single)
– Study / Office
– Main Bathroom
– Washroom
Third Level:
– Entertaining Area with Bar
– Train Set
– Bathroom
– Private Living Area accessible only via master suite on second level
Basement:
– Bar / Second Kitchen
– TV Area
– Rumpus Room
– 2 single bedrooms
– Bathroom
– Gym with Sauna
Granny Flat:
– TV Area
– Mini Kitchen
– Dining Area
– Bedroom on second level with bathroom
– Private Patio and garden
Outdoors:
– Unique Pool Design
– Expensive Gazebo
– Custom Made Hedge Garden
– Plenty of shrubs, flowers, trees and grass.
Please note that the side entrance is considered the front door for Sims. I have used CFE to make the entrance so it was at ground level with modular stairs connecting to the main level. I have hidden the distorted walls so it will look perfectly normal. Unfortunately this was because Sims were naturally heading all the way to the Garage. Either way, I actually like the idea of the side entrance.
Sorry for all the images but I wanted to make sure you guys get a nice preview of the lot before downloading.
Plenty of testing has been conducted with this property and I have noticed a few glitches when re-installing the packaged lot. I believe that I have fixed any problems. Please let me know if there are any glitches or errors and I will try and fix them ASAP. Any feedback is greatly appreciated. Check out my profile for some more awesome lots. Thanks for viewing. 
---
---
Required Expansion Packs:









Required Stuff Packs:








You must be a logged in member to download this file