Shoutbox 
Only logged in users are allowed to enter the chat
Inter-Dimensional Space Trader Career – Sims 4 (Views: 117 )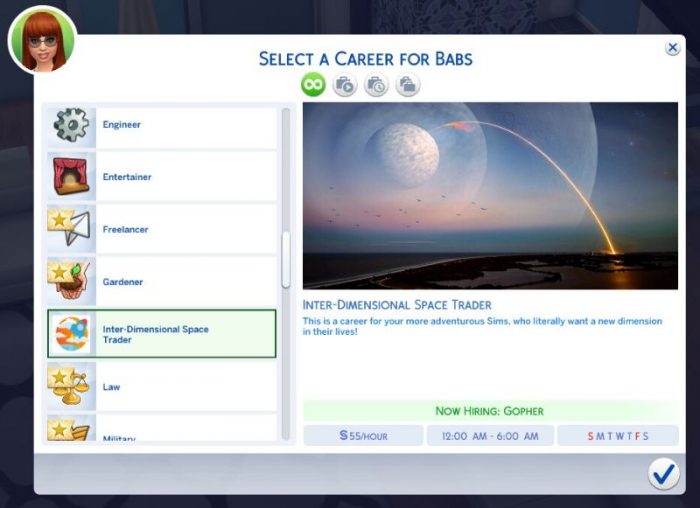 ---
---
Levels:
10
Tracks:
0
Chance Cards:
0
Language(s):
English
Game Version:
1.62.67.1020
This has been converted from my Sims 2 career of the same name. I'd appreciated any feedback because, although I have tested it, it hasn't been fully tested to the top of the career.
It will be challenging to reach the top of this particular career, partly because some of the skills involved are literally rocket science! Unless your Sim buys an actual rocket they will have to study rocket science through book learning, and it takes a long time! However, if they are up for a challenge and have traits that may help, this may be the career choice for them!
Images are from Pixabay.
Level 1: Gopher
Description: You have just started work at the SBI Top Secret 'Research' Facility. Your duties involve fetching coffee, sweeping the floors, and mopping up strange, red stains seeping out from under locked doors!
Wages: §50 per hour
Days: Monday, Tuesday, Wednesday, Thursday, Saturday
Hours: 00:00 – 06:00
Skills:Programming 1, Rocket Science 1
Level 2: General Assistant
Description: You are now working directly under the mysterious 'Madam Blanc'. Your duties now involve filing, answering the telephone, making appointments and making sure Madam Blanc doesn't run out of ginger snaps!
Wages: §70 per hour
Days: Tuesday, Wednesday, Thursday, Friday, Sunday
Hours: 06:00 – 12:00
Skills:Programming 1, Rocket Science 1
Level 3: Senior Assistant
Description: Your security level has been raised. You now have access to certain classified areas of the complex, and you have been given a new ID to enable you to access the main computer. Inside, you discover that scientists working for the government have invented a device that can open inter-dimensional rifts, anywhere in space-time!
Wages: §100 per hour
Days: Monday, Tuesday, Thursday, Saturday
Hours: 08:00 – 14:00
Skills: Programming 2, Rocket Science 2
Level 4: Administrator
Description: You now manage the finances of the facility. Millions are spent, and billions made each year, and you have to administrate the funds, making sure they go where they are needed the most, and where they can make the biggest profit for the government. You have limited access to the main computer and it's financial database.
Wages: §110 per hour
Days: Monday, Tuesday, Wednesday, Thursday, Friday
Hours: 09:00 – 16:00
Skills: Logic 2, Programming 3, Rocket Science 3
Level 5: Trader Tracker
Description: Madam Blanc has mysteriously disappeared, so you have been chosen to take on her responsibilities. You now have full access to the main computer, and discover that, for the past 10 years, the government has been trading technology with other dimensions, and with different civilisations in different time-frames all over the galaxy! You have the duty of tracking each trader and making sure they can always find their way home.
Wages: §150 per hour
Days: Tuesday, Wednesday, Friday, Saturday, Sunday
Hours: 06:00 – 14:00
Skills:Programming 4, Rocket Science 4
Level 6: Negotiator
Description: Your talents have been noticed at the highest level. Out of thousands of applicants, you have been chosen to negotiate first contact, making sure the Traders can have access to the most advanced technology in the galaxy. You are trained to use the Intime-Galactic Translator…a hand-held device that can instantly translate from any language in any solar system! With this, you negotiate Trader access to different dimensions, time-frames and planets, so you will need to build up your negotiating skills.
Wages: §160 per hour
Days: Monday, Wednesday, Friday, Saturday, Sunday
Hours: 12:00 – 19:00
Skills: Charisma 1, Logic 4, Programming 5, Rocket Science 5
Level 7: Ambassador
Description: Your linguistic talents have brought you to the attention of the President herself! You are now solely responsible for communications between dimensions, planets and all time-frames across the solar system. Anyone wanting to trade with Earth, from any dimension, now has to go through you…logic and charisma have never been so important.
Wages: §200 per hour
Days: Monday, Tuesday, Wednesday, Thursday, Friday
Hours: 10:00 – 15:00
Skills:Charisma 3. Logic 5
Level 8: Trader's Assistant
Description: For the first time, you step into the inter-dimensional, space-time device. You are now studying directly under a senior Trader, assisting him with trade negotiations. You also have the responsibility of making the precise calculations needed to be able to return home safely each time if you are cut off from your own world.
Wages: §220 per hour
Days: Monday, Wednesday, Friday, Saturday, Sunday
Hours: 09:00 – 14:00
Skills: Fitness 2, Programming 6, Rocket Science 6, Logic 5
Level 9: Trainee Trader
Description: Your training is almost complete. You are trading solo for low-profile technology, with your bosses keeping an eye on your progress. Your training is hard, the hours long, but the satisfaction is guaranteed. Keep working on those logic skills and you will go far.
Wages: §300 per hour
Days: Tuesday, Wednesday, Thursday, Friday
Hours: 08:00 – 12:00
Skills: Charisma 4, Programming 6, Rocket Science 7
Level 10: Inter-Dimensional Space Trader
Description: You've made it, congratulations! You are now beaming all across the galaxy, through countless dimensions, trading with alien species, cross-dimensional human races and many different time-frames. You have never been so satisfied with your work, so keep your skills sharp and your body in top form, and enjoy your life!
Wages: §600 per hour
Days: Tuesday, Wednesday, Thursday
Hours: 09:00 – 13:00
Skills: Rocket Science 9, Programming 8, Charisma 5
---

You must be a logged in member to download this file

---