Shoutbox 
Only logged in users are allowed to enter the chat
Pretty Little Flowers – 3 Gowns (Views: 3,684 )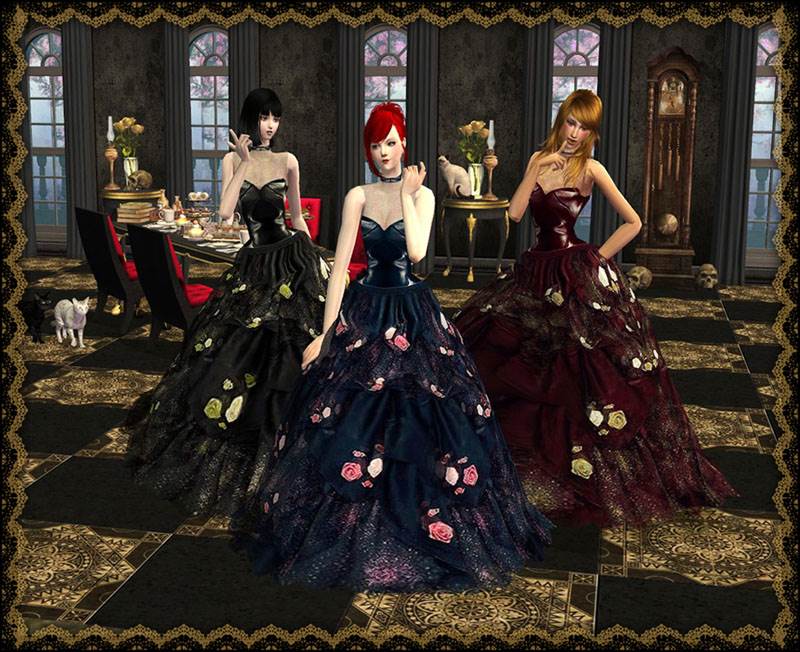 ---
---
Clothing Type:
Formal
Gender:
Female
Age:
Adult
Item Type:
Recolour
Project: EVENING BALL – Dresses for your Ladies!
Second Set = Evening Flower.
My second set of Ball Dresses! Hope you will like them too.
the idea or inspiration was English (garden) tea party/Gothic Victorian mixture.
This set is in a little darker set of colors and comes in : Black, Blue and Red.
MESH INFO!!!!
Dress mesh from 'sim2-fashion' and it's included as the site doesn't exist anymore.
Additional Credits:
Info,Credits & Thanks.
Made with/in: the bodyshop, Made in Photoshop cs5 with Wacom Tablet.~
Clothing Mesh – sim2-fashion
Hair – Newsea,Lilith and MYBsims
Room:
Skull by Kaptiv
Cats, tea cup, book by Nemestnaya
Cakes and sweets, roses by VitaSims
Curtains by Holysimoly
Lamp by DOT
Clock from a Silent Hill set (dunno the creator)
chair by msBarrows
Dinnerware by Sappiresims2
You must be a logged in member to download this file