Shoutbox 
Only logged in users are allowed to enter the chat
Recolorable Porta Potty (Views: 0 )
---
---
Item Type: New Mesh
Function: Plumbing
Room: Outdoor
Price: §140
Poly Count(s): 1926
This is a custom object by EA, that was adapted for TS2 by JM, I suppose. The only problem is that it was in a realistic Blue and was not recolorable.
I remade the object, but remember that I'm a bad colorist. It is now possible to recolor it.
Many times I need an extra toilet because I have usually about 10 visitors in my lots. I made it complete unrealistic because in fact I wanted a toilet and a shower. As you cannot see inside it (unless you try very hard!), I made it to increase both bladder and higiene. I need to keep the visitors in the lots until 16:00 (4 PM) because all my sim visitors age by this time, in residential and community lots. Bathrooms are needed, but to build several bathrooms slow down game play. If you don't know, the heaviest item in TS are the Walls. It is a processor killer.
So here is something you can just hide on a corner. Or recolor to fit the rest of your lots.
I really don't know which EP you need for this object to show in your game, once it doesn't belong to TS2 originally, so I stablished all. It won't override JM's object.
It is not a new mesh because I used the same. I classified as a "standalone" object once it is not a recolor either. And it is not custom creation 'cause EA is the creator. So, it is a 

---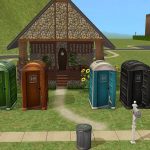 You must be a logged in member to download this file