Shoutbox 
Only logged in users are allowed to enter the chat
Road to Tucson (Views: 2,184 )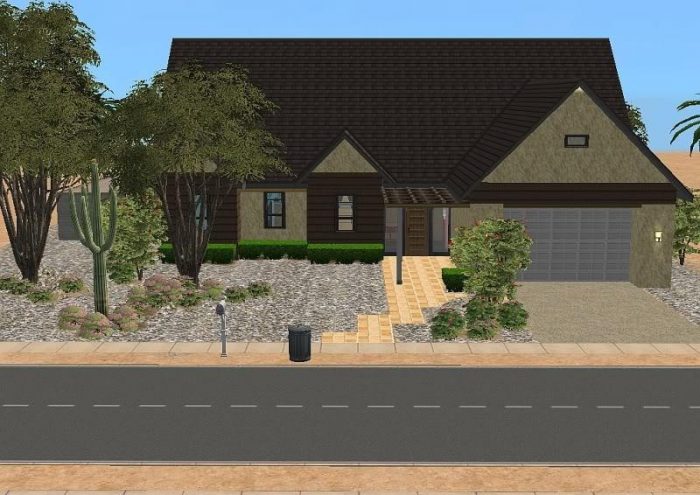 ---
---
Property Type: Residential
Condition: Fully Furnished
Bedrooms: 3
Price: §89,300
Lot Size: 2×3
Extra Info:
Contains custom content
Content is included
---
Tucson is an Old West town 120 miles south of Phoenix, AZ.
It's a blend of modern and Old Mexico with a dash of Native American.
Come on in and see the house!
The living room has a fireplace for chilly nights in December. It's also an open floor plan combining dining andkitchen.
The test sim entertaining new friends in the picture is Mercury Xytone (I built the lot in Strangetown.) Mercury is working his way up in the athletic career after a bad start in which he didn't go for the opportunity to replace Lumpy the Llama. The house has two bedrooms big enough for double beds so if Mercury finds someone, he can get married and start a family. Or, he could have a roommate to share expenses.
Here is the complete floor plan showing base game garage which I hope is placed right so that it could be made functional with garage door and drive way. Right now, Mercury has his weight machine in there.
There is a small back yard, but it has two covered patio areas with room for a hot tub.
Tucson is a slower life style than Phoenix and not as hot or so they say! Of course sims don't worry about that!
Custom bedding, rugs, artwork, floors, and walls by me.
---
---
You must be a logged in member to download this file