Shoutbox 
Only logged in users are allowed to enter the chat
Southpine – No CC! (Views: 0 )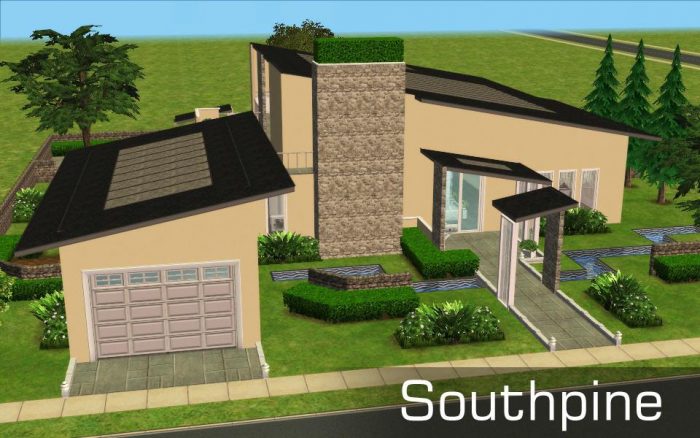 ---
---
Property Type: Residential
Condition: Fully Furnished
Bedrooms: 3
Price: §182,602
Lot Size: 3×3
---
A spacious and modern 3 bed home for upper class family (loaded of course). Plenty of space for a reasonable sized family and everything you need on the ground floor. Luxury furnishing will make your sims feel spoilt. Each bedroom has access to the yard through sliding doors (all burglar alarmed). The entire yard is enclosed by fencing making it entirely pet friendly.
The three bedrooms are fully furnished for an upper class family with older children rather than youngsters (looking from my teen experience I guess). Don't let your neighbours think you live in a boring house any more. Invite them over and have a party!
The strip of the indoor balcony overlooking the living areas is not accessible due to a lower ceiling height. You may still access the reading area, balcony and outdoor kitchen on the upper floor. Your sims will not navigate through the sliding doors because of this and that is why there is a smaller white door which provides the access. This is because the ceiling height is too low for a sim to utilize the space. The garage does function however the car will teleport to and from the street upon leaving and returning for car trips.
---
---
Required Expansion Packs:









Required Stuff Packs:








You must be a logged in member to download this file