Shoutbox 
Only logged in users are allowed to enter the chat
The Fighting Llamas (Views: 8,716 )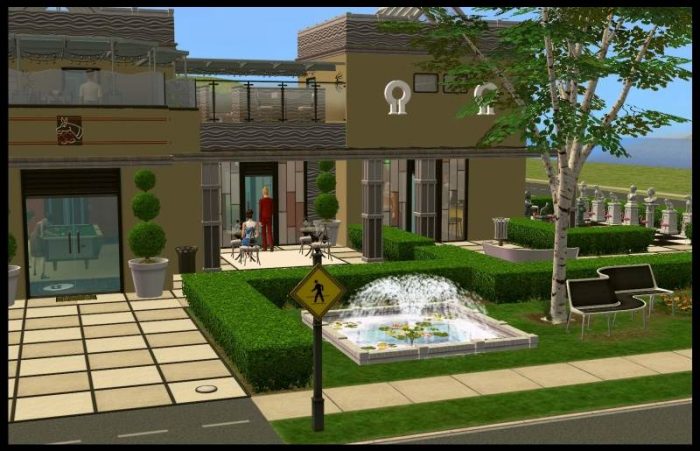 ---
---
Property Type: Community
Lot Size: 3×2
---
This is my round 2 lot for Karens awesome uni contest happening at mts, everyone should check it out if you havnt already! https://modthesims.info/showthread.php?t=518453
For this round I built a games hall for my sporty simmies.~
Theres plenty do do here, starting outside we have a giant chessboard with a diffrence, this is Gnomes vs Flamingoes, winner is the sim that kick over there opponants peices first, it tends to get a bit crazy and have sims jumping up and down on the chairs in excitement!
For those sims that have exerted themselves playing Gnomes vs Flamingoes, they can head over and get stuck into the fruit punch, either by way of using a cup (how civil people do it) or the age old neanderthal way of taking it straight fromt he nozzle. Lets hope your mates who are occupying the dart board at the same time have good aim!!
Inside you have a choice of pool, watching sports on the sports only tv's or trying your luck at poker. Dont forget to have a seat at the bar and try this weeks drink special!
Upstairs in the mezzanine area you can sit and chat over a hot coffee, or have a game of real chess (no gnomes or flamingoes involved)
No cc involved in this one, no huge list to go through and no need to get any extras, this is all ready to install and play, whoop whoop!
No Gnomes, Flamingoes, sims were harmed in making this lot (a cow mascot may have been, we are checking back with the hospital on a daily basis)
Lot Size: 3×2
Lot Price: 120,000
Additional Credits:
Karen Lorraine for the awesome contest and making the shell!
---
---
You must be a logged in member to download this file