Shoutbox 
Only logged in users are allowed to enter the chat
Urban Upscale (Views: 0 )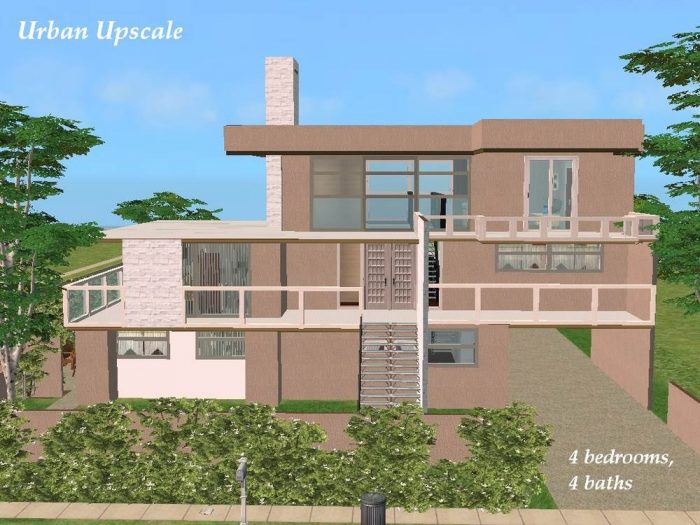 ---
---
Property Type: Residential
Condition: Fully Furnished
Bedrooms: 4
Price: §114,697
Lot Size: 3×3
Extra Info:
Contains custom content
Content is included
---
Why do sims seem to like modern so much? My hope is that this house will be no exception as it is very modern. It is based on a google image called "modern flat roof". In this house I introduce my new vertical blinds although my husband, an experienced retailer, says the vertical blinds are outdated. I feel that they aren't as outdated as the base game window treatments. Urban Upscale is a 3 story home with bedrooms on the ground floor opening out to a patio with pool and jacuzzi. The second floor is the main floor with living room with vaulted ceiling, guest room with bath, kitchen and dining area. The third floor overlooks the living room and consists of a TV area and bathroom. Modern sims! Download this modern house!
Special thanks to Mootilda for her Lot Adjuster which I used to shrink the lot after I had a huge side yard to try to landscape.
GUARANTEE: No sims have ever lived in this file.
cc includes windows, vertical blinds, modern bookcase, simplicity double bed, floating end tables, wall shower, furniture recolors, paintings, walls, and floors by me or millyana
---
---
You must be a logged in member to download this file