Shoutbox 
Only logged in users are allowed to enter the chat
161 W. Cypress Drive (Views: 1,812 )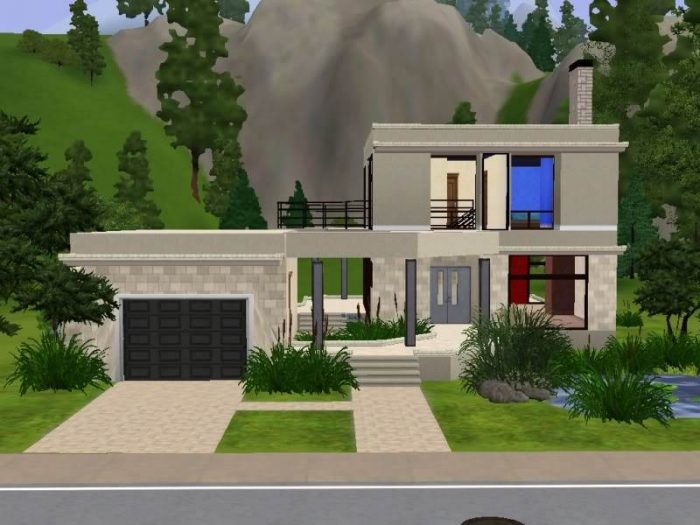 ---
---
Bedrooms: 2
Condition: Fully Furnished
Price: §93,637
Unfurnished Price: §75,890
Game Version: 1.24.3
---
Here is a simple, modern, 2 bedroom house for a career sim. Park in the garage and walk up to the door on a nice covered walk-way.
As you enter the house you will have a staircase to the left and a wall of windows. A small guest bath is on the other side of the stairway, and straight ahead is a convenient breakfast nook.
Right next to the nook you have a kitchen which is open to the living areas.
To the right of the kitchen is a formal dining area for entertaining.
Both kitchen and dining open on to a casual but comfortable living room with fireplace.
Proceed upstairs to the two bedrooms. The master has private bath, and the guest room has it's own bath with entrance in the hallway.
Behind the house there is a lovely green yard with pool and patio areas.
For an overall view of the house there are the first and second floor plans.
If you have a single sim who wants to work his or her way to the top of the career ladder, this little house might be just the thing. Yates Kilborn, test sim, cheered up when he moved in. He got points for cozy fire and nicely decorated. He hated to leave and I think he may have left a bed unmade. Sorry about that!
---
---

You must be a logged in member to download this file