Shoutbox 
Only logged in users are allowed to enter the chat
8 Pastel Way (Views: 0 )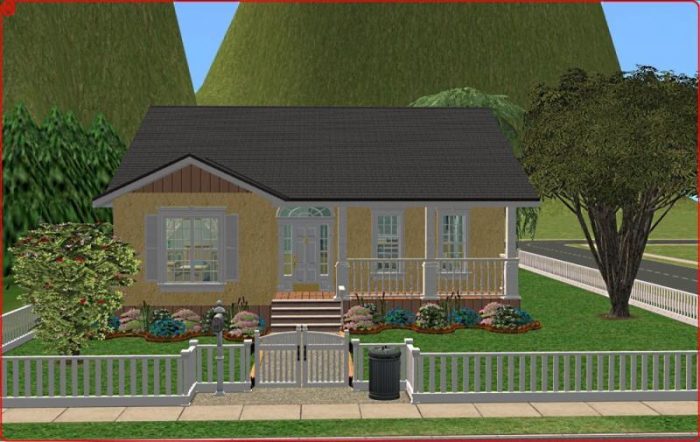 ---
---
Property Type: Residential
Condition: Fully Furnished
Bedrooms: 2
Price: §55,380
Lot Size: 2×3
Extra Info:
Contains custom content
Some content is included
---
8 Pastel Way
Just a little one but with a bit of a hefty price tag for something so small!
This house has:
2 Bedrooms
Bathroom
Open kitchen, living and dining.
Please note to get the windows and doors to show you will need to download Phoenix Phaeries modern Georgian Manor set, and there may be one window from the modern georgian add on set so you may want that too https://www.modthesims.info/browse.php?f=380&u=295417&gs=0 If you want the white roof trim you will need Phaenoa https://www.modthesims.info/download.php?t=327787. And the White gate recolour is from Numenor https://www.modthesims.info/d/308839.
Custom Content Included:
– Ofb column white by Ailias
– OFB Story Fence in Whitest Clean by Ailias
– Edge Smoother 2 Wood by Ailias
– Basic wood siding in three directions and many colors. Made by iCad at MTS. by iCad
– Longhorn Fence – Chenille 14 by Piggis
– Semi-circular Flowerbed (1×1) by MaryLou & Numenor
– Ralph Lauren- River Rock wall by masterofallvideogames
– Cat "Chalipo" by Things4Sims
– Counter Cutout by Tiggy
– Counter Cutout Frame Center by Tiggy
– Counter Cutout Frame Left by Tiggy
– Counter Cutout Frame Right by Tiggy
---
---
Required Expansion Packs:


You must be a logged in member to download this file