Shoutbox 
Only logged in users are allowed to enter the chat
Abandoned Nz Batches (Views: 0 )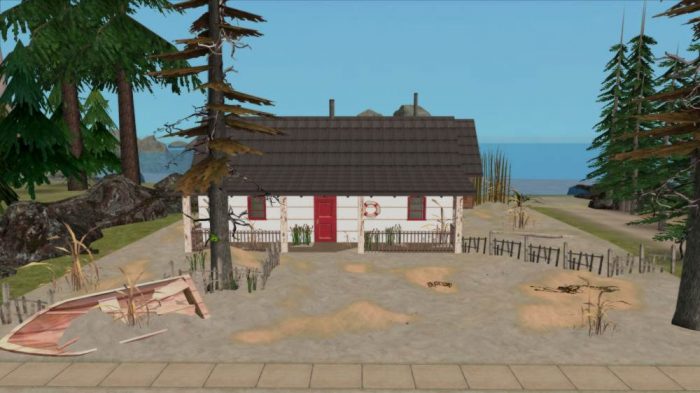 ---
---
Property Type: Residential
Condition: Fixtures n Fittings Only
Bedrooms: 1
Price: §33,249
Lot Size: 2×4
Extra Info:
Contains custom content
Content is not included
---
Two streets over from me theres a bunch of rundown houses that have been here since waaaaay before I was born, as the area I live in was one of the first settled they are more than likely at least 100 years young, and they do look it! I decided they would be a fantastic start on a before and after, these being the after, or they could be the before the after which could lead to a modern renovation, I havn't decided yet! Anywhoo, what I did want with these was to make 3 beach front abandoned batches on a beach lot and have them with the apartment life door, however I could not find an apartment door scummy enough to make it look even halfway rundown, so they are just classed as a vacation lot on a beach front in Twikki Island. The only furnishing I have added are the kitchen and bathroom both by Guatla at mts which are NOT included, so if you want those head over and download https://www.modthesims.info/download.php?t=326755, https://www.modthesims.info/d/302846 If you download and make them nice again before me, I would love to see what you do!
Anyway first Batch is the largest having a kitchen plus room for a table and a small lounge, 1 bedroom and bathroom.
Second and third Batches both just have the one room holding a Kitchen, and room for small lounge and maybe one of those shelf beds if you want to do one up and pop in https://www.simlogical.com/sl/Sims2Pages/Sims2_Shelfbeds.htm
There is a bathroom attached to the third batch but only accesible from the outside, which is also available for the second batch to use.
The Third batch is a bit more run down than the others having a rather large hole created with a mixture of the sea, salt and more than likely Bora, and Im sure there would be a few HuHu Grubs housed there now. Whoever fixes that will need a good mop and a level to fix the floor which has been lifted from the damp!
Floor Plan
And a Batch that inspired the Third (this isnt round the road from me!)
---
---
Required Expansion Packs:








Required Stuff Packs:



You must be a logged in member to download this file