Shoutbox 
Only logged in users are allowed to enter the chat
American Woodlands (Views: 0 )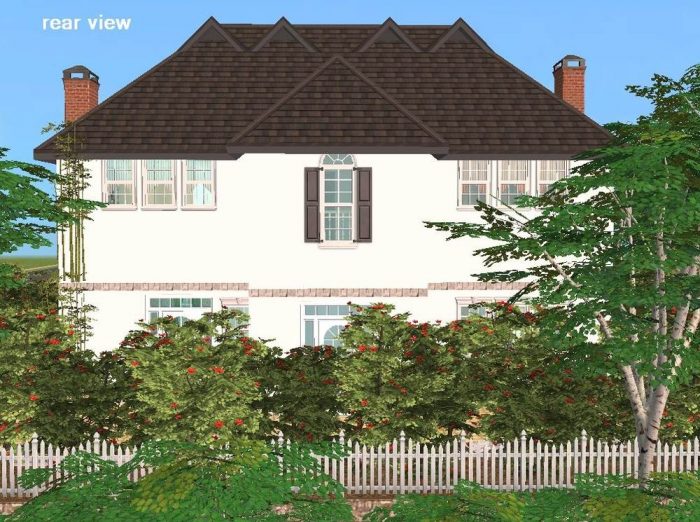 ---
---
Property Type: Residential
Condition: Fully Furnished
Bedrooms: 3
Price: §127,153
Lot Size: 4×3
Extra Info:
Contains custom content
Content is included
---
Today I present an American colonial style house with 3 bedrooms, 2.5 baths, formal dining room off the kitchen, lounge with fireplace, and amazing floors and walls by American designer chilili, which make the house look light, spacious, and whimsical. Your sims will enjoy the outdoors on the shady back patio, perfect for barbecues, jacuzzi, or chess. A pool won't work unfortunately since almost the whole lot is a foundation. The shell paved driveway may be able to be functional with move_objects on, but the builders can't guarantee it. A young couple, aptly named the Jeffersons, have just moved in to a model like this and were seemingly disappointed in the smoke alarm even though it's the same in all sim houses. Hopefully you will have Sims who will be pleased with the smoke alarm. As for the rest of the house, it had high marks in environment.
I now realize that my American house has a profoundly British influence with the Victorian walls, Spring carpet collection, and natural wood floors by LadyAngel. Of course we all speak English too, so I guess British influence is nothing new.
Extra Info American Wood, An-Oasis Wood, Bark-Birch Wood, Sea-Brick Wall, and Bathroom-Marble-Weave walls and floors by chilili
Crumbling Brick by LadyAngel
Vintage Wallpaper Collection by LadyAngel
Spring Carpet Collection by LadyAngel
Natural Wood floor by LadyAngel
Other walls by me or millyana.
---
---
You must be a logged in member to download this file