Shoutbox 
Only logged in users are allowed to enter the chat
Arizona Ridge (Views: 2,415 )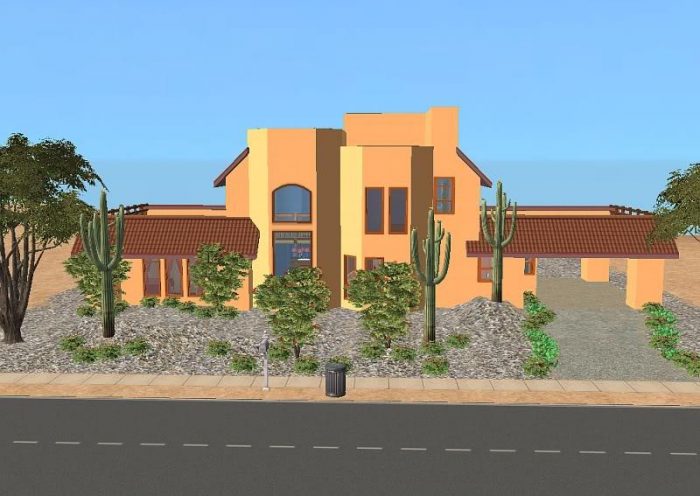 ---
---
Property Type: Residential
Condition: Fully Furnished
Bedrooms: 3
Price: §107,802
Lot Size: 3×3
Extra Info:
Contains custom content
Content is included
---
High above a barren canyon in the Sedona template, you will find Arizona Ridge, a 3 bedroom, 2.5 bath Spanish style southwestern home.
The coral stucco walls catch the sunlight so the house can be seen from the canyon below. Natural desert landscaping completes the picture.
The house is artsy, full of southwestern art and rugs, and luxurious for the desert as it includes a refreshing pool and hot tub.
Park your car in the shade in the carport right at the front door.
The house has two bedrooms and a bath downstairs and the master bedroom is upstairs, opening onto a wide deck.
The living room and dining room are spacious and easily accessible from the kitchen.
Test sim, Maria Cordova is living comfortably in a home like this now. She wants a family and has just met Goopy GilsCarbo from the neighborhood. Although his outfit was not to her liking, he paid her a nice compliment when they first met and then seemed interested when she talked about work. She is now thinking about him and would even like to play with him. Perhaps Arizona Ridge will become their home sweet home. And for your sims too!
custom content by me includes furniture recolors, rugs, wood floor, stucco walls and wall paper, and southwestern art.
---
---
You must be a logged in member to download this file