Shoutbox 
Only logged in users are allowed to enter the chat
Cute, Quaint, Cosy and Quirky (Views: 3,779 )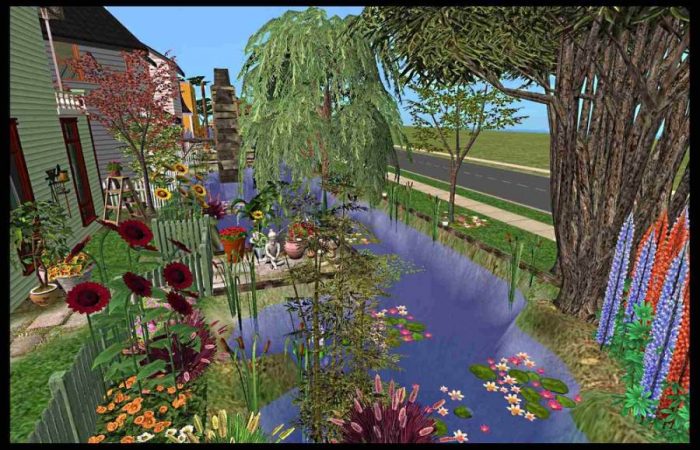 ---
---
Lot Type: Rental
Property Type: Hotels & Rentals
Condition: Fully Furnished
Properties: 6
Price: §2133-6956
Lot Size: 5×5
Extra Info:
Contains custom content
Content is included
---
I always say that I will never make another apartment lot again, as I find furnishing them so mundane. But then I always go back for more! This one has taken me almost 2 months. It only took a couple of hours to make the structures its just the furnishing and the landscaping that does me in, well that and quitting out every 5 mins to go find a piece of cc that I think it really cant live without! Anyway the point is, its finally finished and I'm never doing another apartment lot again! I mean it! So without further ado:
Cute, Quaint, Cosy and Quirky
There are 6 apartment lots in total, some ended up sort of theme like. Some are furnished to the max others not. All apartments are in working order and price range is $2133-6956. If you want to see pic s of each individual house check out the album https://s398.photobucket.com/albums/pp67/ekrubynaffit/CQCQ/.
House 1 – (didn't get the price)
Two Bedrooms
One Bathroom
Open plan Kitchen
Dining
Lounge
Study
House 2 – (sorry didn't get the price either)
This became my favourite, very colourful and mostly IKEA furnishing
One Bedroom
One Bathroom
Kitchen
Dining
Lounge
House 3 – $3678
More for the retired Green Thumb
Two Bedrooms
One Bathroom
Kitchen
Dining
Lounge
House 4 – $6956
Good for a large family
Four Bedrooms
Two and half Bathrooms
Kitchen
Dining
Lounge
Fake Garage
House 5 – $4229
Quite Artsy Fartsy
Three Bedrooms
Three Bathrooms
Lounge
Dining
Kitchen
Study
BBQ Area
House 5 – $2133
After I built the structure it reminded me of one of those swing out Barbie Dream houses, so this is dedicated to those that think pink!
Two Bedrooms
One Bathroom
Kitchen
Dining
Lounge
Yes again theres a bit of cc in this one, Started furnishing number 3 first got to the dining area and realised that the window seat actually needed a cushion, so went on a hunt found one made for it (it actually works as a sofa too by the way!) and then it escalated…..and escalated! Anyway if you want it to look as pretty as the picture then you will need to download all 3 files. I do try to get objects that are low poly.
Credit where credit due:
Huge Lunatic, amythestfenix, Honeywell, Issy, Jonsi, BuggyBooz,Chrissy, Lina, Sarah, HP, Gayle, Oh Behave, Jon119, Aweshie, Leeseter, Nengi,echo, Mira, Mustluvcatz, Ms Barrows, Holy Simoly, Salfindragon, Marvine, Targa,Silent Lucidity, Smithycpl, Parsimmonious, Tofusnorlax, Miss Wendy
As usual if I left anyone out let me know, I appreiciate the effort people take to make these extras so a little credit can go a long way.
And thats it! Yay!!
---
---
You must be a logged in member to download this file