Shoutbox 
Only logged in users are allowed to enter the chat
Destillery (Views: 2,849 )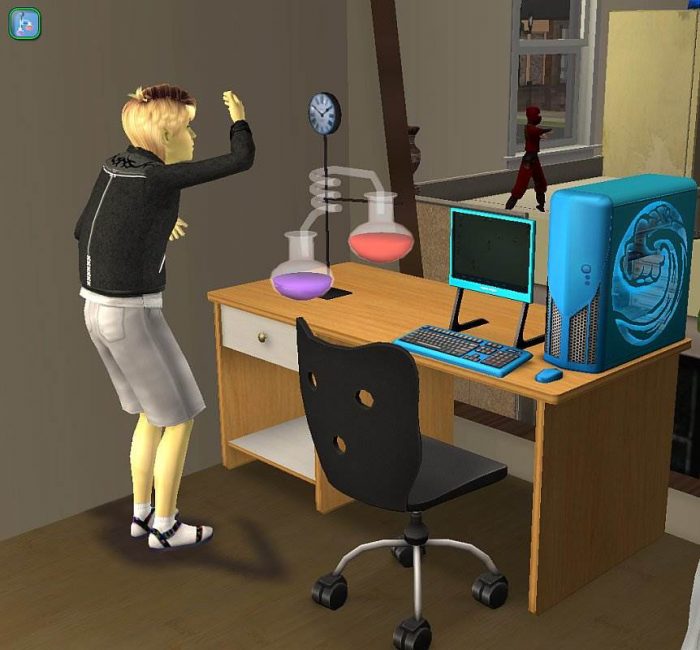 ---
---
Item Type: New Mesh
Function: Appliances
Room: Study/Office
Price: §See post
Poly Count(s): See post
I was asked from an user named Rizo, about an old xptl work named "Destillery". It was not the first time I got such request and it took me days to find out the objects. It deals on one of Eddie's old works and he is no longer available. I had to pick up the pieces and complete what was missing. Well here it is:
A machine cloned from the cooking reward "Candies Factory" and recoded to throw alcoholic drink bottles in a sims' inventory. Be aware that this machine mesh is original and has a poly count of 10.108 added of an accessory that I had to create, once I didn't find out what Eddie used originally, that is plus 402 polys. It is located in Kitchen Appliances and costs Null (§ 0).
The other object in the set, is a chemical set originally meshed by Crocobaura, and recoded to do the same. The object is also high poly (3898), costs §52 and is located in Hobbies/Misc.
I would like to inform that those old works were deleted at Eddie's request once he got annoyed by an inconvenient incident. The intention of the deletion was not to prejudice the site where they were posted (Insiminator), but to really destroy the old works so that I could get back the GUIDs to use in more updated objects, once for all the years they were online, they got a ridiculous small amount of downloads. We didn't even think that someone would be still interested on them. So, sorry for the inconvenience but it is a pain to recover such old objects.
Thanks. 🙂
PS: In order to the drink bottles to appear in the sims inventory, the following third parties objects are required:
SH sake set – found probably in a site named Sims2PlayRussia
whisky bottles – Phel (no clue where) GUID 0x00131FD4
Liqueur Bottle – (no clue where) GUID 0x0012E4CA
Champagne, ChampSet Gold, ChampSet Silver – from Maylin (probably at MTS2)
See pic of the drink bottles for reference. Sorry!
The very small bottle that was missing, is now included to the download. Very sorry, I opened it in Simpe and it is one of our GUIDs. It means that it was made by one of us. 🙂
The other missing bottle that I called for "Liqueur bottle" actually is named "Glass Water Decoration", VicMaster Bedroom – www.vitasims.com
---
You must be a logged in member to download this file