Shoutbox 
Only logged in users are allowed to enter the chat
Elegant Stone Cottage – Basegame (Views: 2,438 )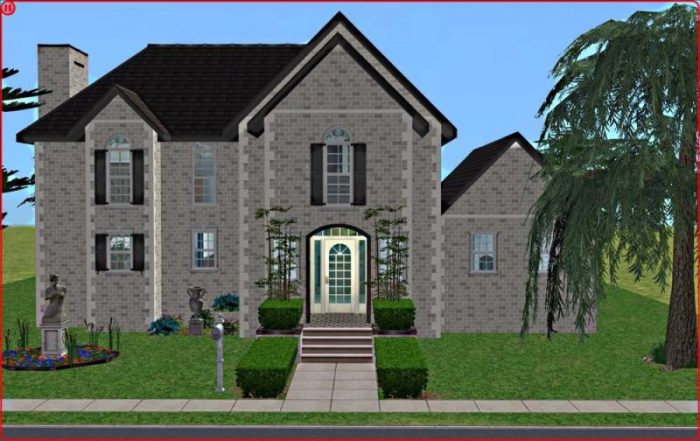 ---
---
Property Type: Residential
Condition: Fully Furnished
Bedrooms: 4
Price: §175,731
Lot Size: 3×3
Extra Info:
Contains custom content
Content is included
---
This "Cottage" has a charming split level entrance way, downstairs is a basement area with a bathroom, and upstairs there are 4 bedrooms and two bathrooms. The Master bedroom has a nursery through an archway on one side of the room and on the other a dressing area and then bathroom.
Seperate kitchen, living and dining rooms.
The only custom content is wallpaper.
Custom Content Included
– Fancy Walls with Wainscot 1 by Kims*Designs
– Brickfest 1 by ClstlDrmr83
– Brickfest 2 by ClstlDrmr83
– Brickfest 3 by ClstlDrmr83
– Brickfest 4 by ClstlDrmr83
– Brickfest 5 by ClstlDrmr83
– Brickfest 6 by ClstlDrmr83
– Fancy Walls with Wainscot 2 by Kims*Designs
– Fancy Walls with Wainscot 3 by Kims*Designs
– Neutral Elegance Wall 1 by escand
– Neutral Elegance Wall 2 by escand
– Neutral Elegance Wall 3 by escand
---
---
You must be a logged in member to download this file