Shoutbox 
Only logged in users are allowed to enter the chat
Fantasy Lot – Truck House (Views: 0 )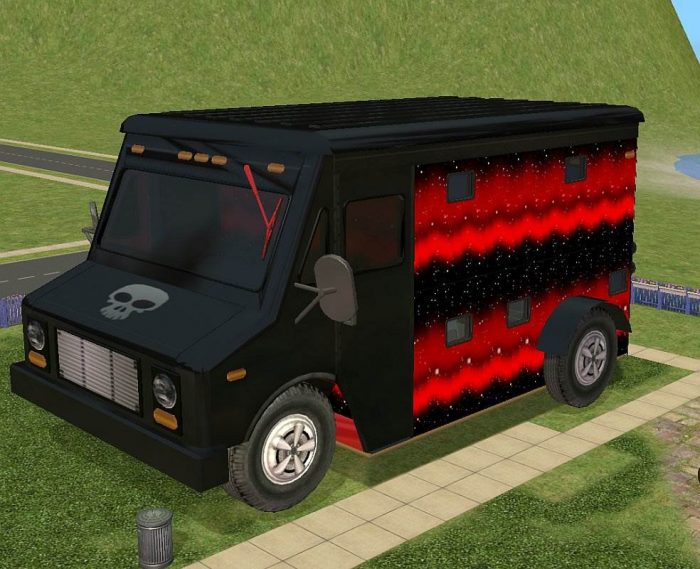 ---
---
Property Type: Residential
Condition: Fully Furnished
Bedrooms: 2
Price: §49.766
Lot Size: 3×3
Extra Info:
Contains custom content
Content is included
---
This is another fantasy lot. It is sort of tutorial on how to assemble a truck or van and sims can live in it. The truck is composed of 5 parts: the body, that holds the outside shell of the car; the interior; the deco lighting; the steering, composed of steering and front wheels; finally the back wheels. Everything can be placed without cheats and on the end you will have the complete car.
The truck is assembled in a 3×3 lot and is available in 4 colors: black, blue, red and white. All parts are full recolorable. The wall paper included is just because I didn't find any game blue wall paper that fits. It is also a collection included that of course should go on Collections.
Truck parts – poly count
Truck body: 1013, costs § 600 and is cloned from the Big Gorilla
Truck Interior: 1136, costs § 550
Truck Back Wheels: 672, costs § 550
Truck Deco Lights: 1043, costs §550
Truck Steering: 1758, costs § 550
All the parts except the body were cloned from the Base Game Venus Sculpture and everything is seen from hood view. There's a light difference between objects and wall papers, so the truck will show lighter and darker parts, but this is a result of the game self.
The truck color on the lot is the witch like Goth Black, but change the color is just a matter of click and do. As I said, it is a tut, sort of learn yourself. 
---
---
Required Expansion Packs:









Required Stuff Packs:








You must be a logged in member to download this file