Shoutbox 
Only logged in users are allowed to enter the chat
Fantasy Lot – UFO (Views: 0 )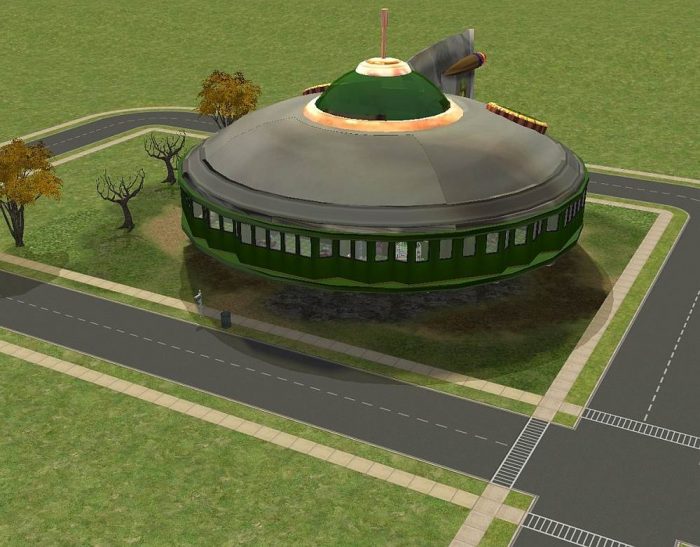 ---
---
Property Type: Residential
Condition: Fully Furnished
Bedrooms: 5
Price: §124.823
Lot Size: 3×3
Extra Info:
Contains custom content
Content is included
---
This is a residential Lot. It is fully furnitured and most of the items are from the EP Pets, so it is required.
The main object is the UFO's mother Object and it is the UFO self. It has 2.632 polys and is incredible low for its complexity. I had to break the game UFO in hundreds of parts, to be able to build a house out of it.
The ufo is assembled over columns in form of lamps and it is an adaptation of an object by Olemantiker. It won't affect or override his object once it is basically, completely different.
Warning: the UFO house is Big and you should take into consideration the capacity of your system. Though the UFO self is a ground object, to simulate a flying Object it is assembled over several columns to be actually in the second floor. The column has 258 polys each. It is not a real lamp, but reflect in the night in neon colors. Seen from the neighbor, it is a shiny object in every part.
Included is also a recolor of the glass spiral stairs where I took most of the contour, so that it is somewhat "floating".
The windows used, are the same from the "Tram". Consider reducing the number of windows in the case your system is not very powerful. I used about 74 windows. You may use whatever window you want.
The UFO object is a sculpture and is located in Decorative/Sculptures. It is full recolorable as well as the columns (located in Build/Columns).
The grab point of the UFO, is the green glass on the top of the object, so you can play it without having it in your way. As it is a closed object, you have to move inside it to see and play your sims. The object doesn't go down with the walls, it is visible all the time. If you are playing a lot where it rains or snow, it is recommended to add a ceiling. To do that, you have to move the object out from the house. It can be placed back without cheats. I play UFOs in Desert Hoods and in my game, it doesn't rain or snow in the desert.
The UFO house has 5 bedrooms and 2 complete bathrooms.
I used simpe, Milkshape and Photoshop 7
---
---
Required Expansion Packs:









Required Stuff Packs:








You must be a logged in member to download this file