Shoutbox 
Only logged in users are allowed to enter the chat
House of Clouds, International Sim House Hunters Option 1 (Views: 2,959 )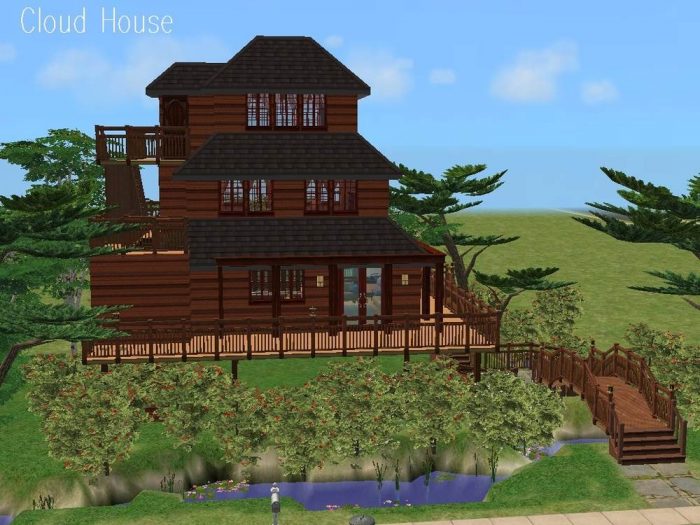 ---
---
Property Type: Residential
Condition: Fully Furnished
Bedrooms: 2
Price: §75,535
Lot Size: 3×2
Extra Info:
Contains custom content
Content is included
---
Ginger Baylor has just gotten her dream job! Lobbyist in the Far East! Her objective is to portray a wonderful impression of her country to the people of her host country and gain their trust so that they will want to trade with her country and increase prosperity for both countries. Ginger is completely idealistic and well intentioned. She wants to buy an inviting home in which to entertain and influence the community of her host country in which she chooses to live. Her very professional and trustworthy realtor, Miss Woo, showed her this first option, House of Clouds. Ginger really loved the lush surroundings but worried about maintaining it all until Miss Woo pointed out that there are no shrubs on the lot which require trimming by sims! Also, the lot itself is small. The inside of the house, reached after crossing a Far East looking bridge and climbing a flight of stairs impressed Ginger very favorably, especially the designer Far East tiles in the home which added character and color. The house had a rustic feel from the natural wood siding and floors and open decorative French doors which let in the fragrant air. The house has two bedrooms which could sleep 4 sims. Ginger is hoping to get a lot of visitors from home so that is important to her. Miss Woo also has two other options in Ginger's price range which is 75,000 simoleons.
Beautiful custom tiles, Victorian wall, and wood flooring by Lady Angel
Other walls, floors, and furniture recolors by me. Decorative French door by me is a clone of the glass top coffee table, just for informational purposes. Of course the house won't be Seasons proof with this door.
---
---
You must be a logged in member to download this file