Shoutbox 
Only logged in users are allowed to enter the chat
House of Fallen Trees **Maxis Makeover** (Views: 0 )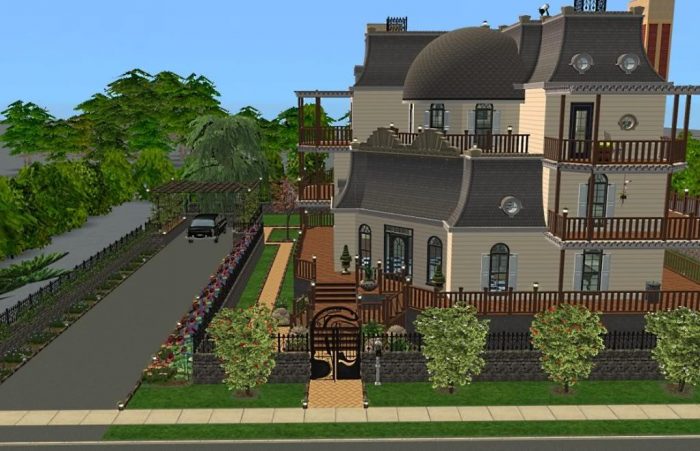 ---
---
Property Type: Residential
Condition: Fully Furnished
Bedrooms: 5
Price: §311,963
Lot Size: 4×4
Extra Info:
Contains custom content
Content is included
---
HOUSE OF FALLEN TREES
Four times i have tried to upload this house along with giving it an interesting background story which has taken ages to type up! And every time I go to upload either my internet craps out, accidently push the back button, or stupidly click the x on the tab while goinmg between photobucket back to the site! So sorry theres no large background story, will just say I found this place in Downtown:
and thought it had an interesting shape and alot of potential, once the fugly roof was changed and took away the random bits of flooring jutting out here and there! Also there was a huge underground cavern for vampires I didnt like:
So spent almost two days first filling it in then realising the a=whole foundation will have to be demolished and rebuilt as it was an absolute shambles and would flood when placed back into the neighbourhood. Happy to report that wont haoppen, or it shouldnt anyway!!
Anyway heres the finished product, and must admit I am very happy with how its turned out, and to blow my own horn looks way better than what was originally built!
FIRST FLOOR
Foyer
Lounge
Dining Room
Kitchen
Half Bathroom
SECOND FLOOR
Three Bedrooms
One Bathroom
THIRD FLOOR (SERVENTS QUARTERS)
Two Bedrooms
One Bathroom
FOURTH FLOOR
Attic
Stairways leading to Rooftop
This has been tested, all stairways work, no flooding when placing. There were gravestones in the back garden I've brought them inside for a more warmer rest! So may have a residential ghost or 3 show up!
And i think that is finally it!!
Enjoy!
Again Thanks to triciamanley for her lovely walls which I simply adore!
Fresh prince for the car https://www.freshprincecreations.com/cars.htm
And Salix sims for the awesome loft staircase https://salixsims.com/
---
---
Required Expansion Packs:







Required Stuff Packs:



You must be a logged in member to download this file