Shoutbox 
Only logged in users are allowed to enter the chat
Mi Ranchito (Views: 0 )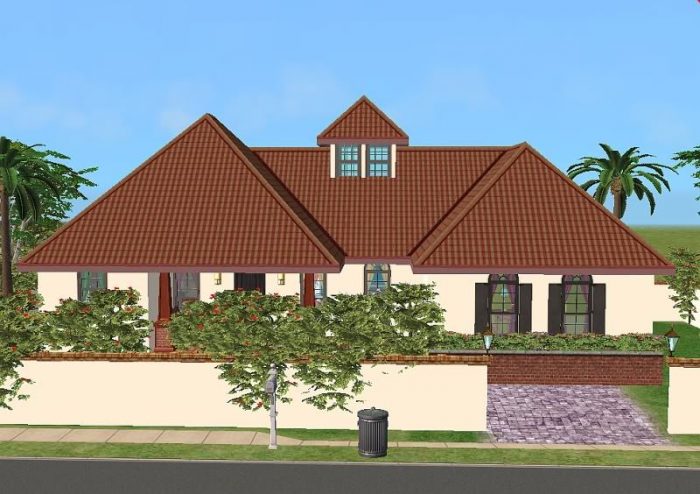 ---
---
Property Type: Residential
Condition: Fully Furnished
Bedrooms: 2
Price: §94,367
Lot Size: 3×2
Extra Info:
Contains custom content
Content is included
---
When I saw LadyAngel's cute starter house, 29 Lofthouse Ave. I thought how much fun it would be to decorate it. I downloaded and entered the lot. The walls are painted in bright, bold colors: turquoise, red, coral, and yellow. It made me think of Mexico and so I present Mi Ranchito.
I built a private stucco wall around the property over which there are cascades of bougainvillaea. Enter using the cobblestone driveway, created by LadyAngel herself and available for download here. You will enter the house into the small living room which has beautiful, rich wood floors also created by LadyAngel. I kept the original wall colors and added custom art to tie everything together.
Through an archway you will come to the kitchen and dinette areas.
Another archway leads to a hallway and then on in to a cozy formal dining room for entertaining and a guest half bath.
The hallway also leads to a guest bedroom and bath.
On the other side of the house you will find the masterbedroom, and an add-on bathroom.
This is the most fun I've had in a long time! I highly recommend LadyAngel's starter
homes for inspiration!
The house now costs $94,367 and only requires base game to download.
This lot contains custom content by LadyAngel: cobblestone terrain paint, and hardwood floors, both available here under downloads.
---
---
You must be a logged in member to download this file