Shoutbox 
Only logged in users are allowed to enter the chat
Modella – No CC! (Views: 2,018 )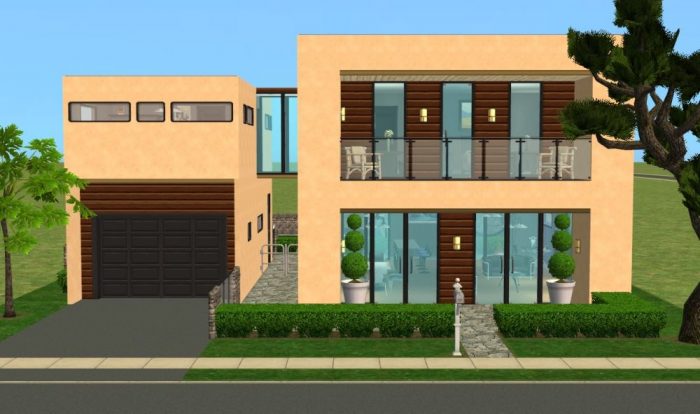 ---
---
Property Type: Residential
Condition: Fully Furnished
Bedrooms: 3
Price: §162,440
Lot Size: 2×3
---
Check out my new Facebook Fan Page for updates!
This spectacular 3 bedroom home offers spacious living and plenty of style. A modern build style like this will surely fit into your neighbourhood nicely.
On the lower floor is an alley which separates the left side of the house from the right side of the house. There is a hall on the upper floor which connects both sides of the lot together.
The left side on the lower floor is the garage and laundry with access to the alley. The right side of the lot on the lower floor contains the kitchen, living, dining and office areas in an open plan style with plenty of light shining through the bay windows and glass doors.
The upper floor includes a bar area, master bedroom with en-suite & front balcony, main bathroom, washroom, 2 additional bedrooms, bar area and a rear balcony overlooking the yard.
The home will fit up to 6 adults comfortably with the spacious bedrooms. It is fully furnished and includes all appliances including phones, burglary alarms and smoke detectors.
Feedback on this lot is greatly appreciated so I can aim to create things that you downloaders will like better. I hope you all enjoy this home. Thanks for viewing. 
---
---
Required Expansion Packs:









Required Stuff Packs:








You must be a logged in member to download this file