Shoutbox 
Only logged in users are allowed to enter the chat
Old Settlers' Inn (Views: 0 )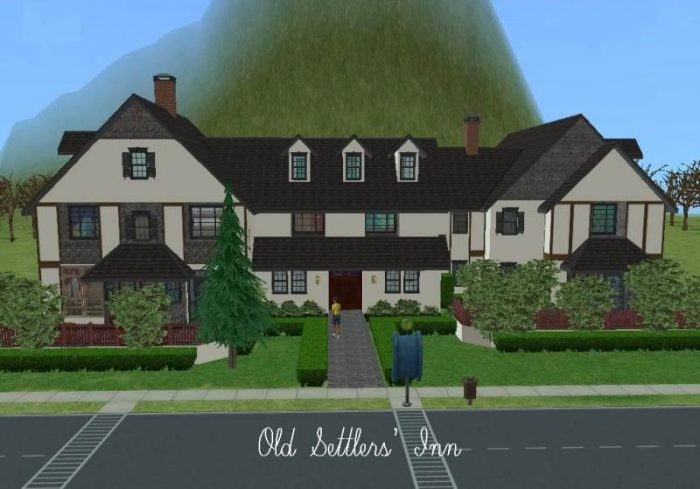 ---
---
Lot Type: Hotel
Property Type: Hotels & Rentals
Lot Size: 4×4
Extra Info:
Contains custom content
Content is included
---
Nestled back in the mountains near Twin Lakes, you will find Old Settlers' Inn, the once elegant home of Gloria VanSnooker.
The old Mansion is now a cozy bed and breakfast with 7 bedrooms each with private bath and ranging in rates from $343 – $816 a night. Some rooms have fireplaces.
The establishment also includes a restaurant with hearty cuisine and fairly decent service according to test sim, Mr. Pleasant.
You will also find a nice lounge with big screen TV where locals and tourists alike enjoy cheering on their favorite teams.
Out back you have a hot tub to take the chill off and fill up the social meter.
One really nice thing about Old Settlers' Inn is that check in time is when you show up!
Consider planning your next sim mountain vacation at Old Settlers'. Your sims won't be disappointed! Of course, they're never really disappointed except with most catalog items.
Remember, that's Old Settlers' Inn, just 5 miles north of Twin Lakes on Granite Mountain Road.
---
---
Required Expansion Packs:




You must be a logged in member to download this file