Shoutbox 
Only logged in users are allowed to enter the chat
Career – Cowplant – My mod (Views: 24,669 )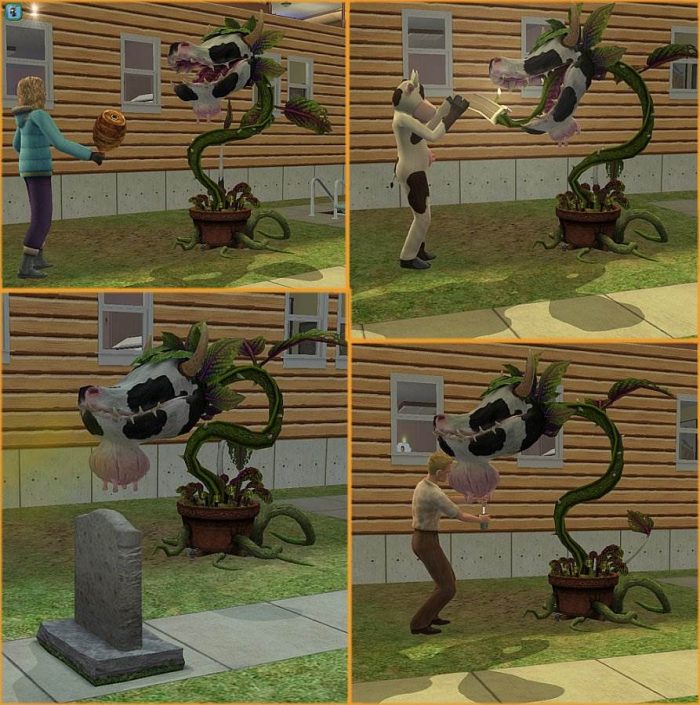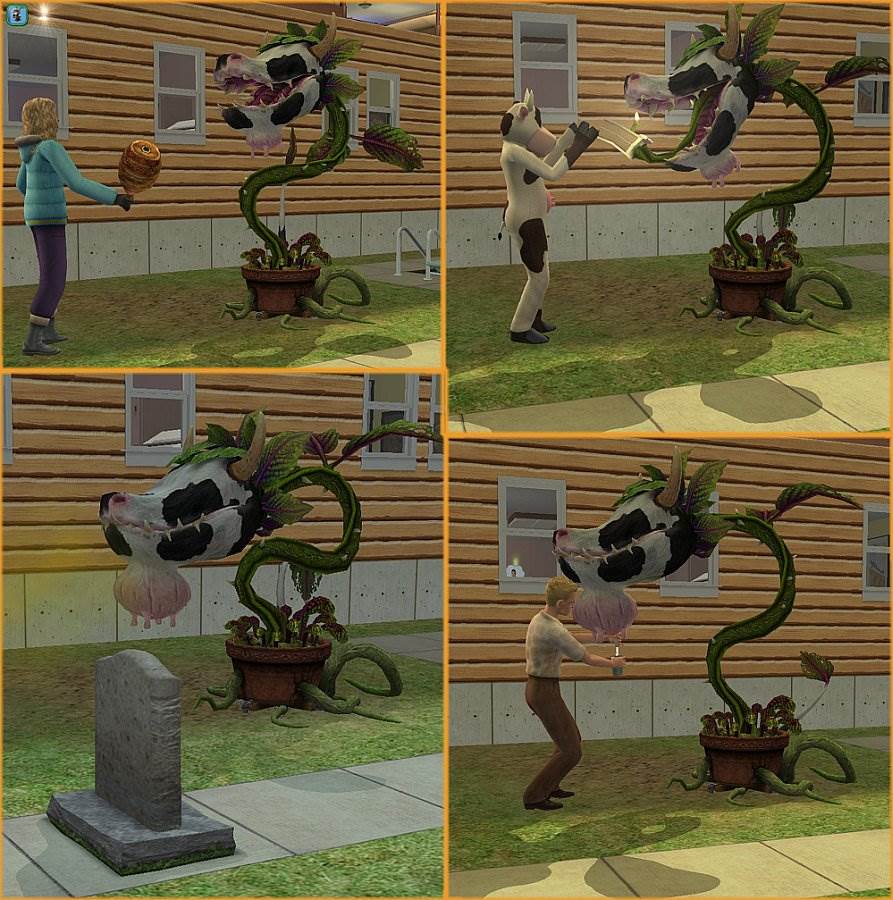 ---
---
Please backup any files that may be overwritten.
This Mod:
affects gameplay
---
PS: I had to replace the mod because there was a small problem with Dead Sims being selected. If you got it, please redownload. Thanks
Revision: I included a new revision for the mod that corrects some animation and small adjustments. I'm always complete satisfied with the results but will keep correcting anything that can be improved. I will replace the mod completely when I cannot find anything that can be modified any longer. For now, the interessants should download the version with higher number.
I've modded the Career – Cow Plant (Dioneae Simcipula) and the first results were posted at MTS2.
This is sort of answer to some requests.
If you still don't know, this strange cow came with the EP Uni and kills sims by teasing them with a cake.
Originally the cow would kill randomly and you could have one of your favorite sims accidentally eaten by the cow.
Well, I changed it. Now no one will be eaten accidentally but the cow can eat everybody instead, family, friends, enemies, recently just known or even NPCs.
I included a new interaction "Ask someone to Grab the cake" that is connected to the interaction "Grab cake No Test". It means that you can command whoever Sim in the lot to commit suicide. They will go to the cow and be eaten. You need only to greet them and you are entitled to kill them. If you like cheating Like Me, you can also teleport a townie or NPC to the lot and you also can kill him.
Basically it is the same mod posted at MTS2. The differences are:
Now you can kill children;
Sims will get no memories from the deceased;
The milk will not be available forever, it will dry after a while.
You can command whoever in the lot including non family members to milk the cow, but after awhile the milk will no longer be available. If you ask someone to milk the cow and they don't do it, it means that the time has already expired. You should click periodically to check if there's still milk over there. This checking will wake up the cow and soon after it will be a new cake to tease another sim to die.
The animations for killing children is not that perfect. When using adult animations for children, they float above the ground. It will also cause that the cow will open the mouth and the kid will disappear completely inside it, but all the rest proceeds normally.
The mod received the suffix (9). The one at MTS2 has (7), so it is older.
This mod Requires Uni, but remember that I have the whole game. Everytime a mod is made on full game, it is very possible that everything is required.
You must be a logged in member to download this file