Shoutbox 
Only logged in users are allowed to enter the chat
Pet Doors and other Special Doors (Views: 0 )
---
---
Item Type: New Mesh
Price: §?
Poly Count(s): See post
These are special doors cloned from the Game Gender Door. They are slaved to the game Cheap (Value) Door and will pick all recolors. In order to make the doors special, you need the two global files included. One of them is a portal that classify the doors, the other assures that the doors will not cut down with walls.
So they work: when you place a door in the lot, for example the dog door, only dogs will be able to use that door. The pets doors are very small and cut correctly on the wall. There are such small doors for cats and even Toddlers.
If you have Inge's key doors or special codes for Gender selection, you can also add specific gender and separate males from females. If you want to make the pets door gender specific, use a Human to select the gender. The game doesn't include codes to allow pets to make such changes. There is also a fake Apartment door which only function is decorative or to work with my self created Apartment EP that is specific based on Inge's key doors. I finally found a way to teach Sims what they have right to use or not, without hiding whole apartments.
All those special doors, except the fake apartment door have 318 polygons. The fake apartment door has 894 polygons. To recolor any of those doors, just recolor the value door.
Of course, pet doors Require Pets. 😀
For your information, there is a door in the game that is called "Stay Out Door", that had no special function. I added the function that makes this door available only for Teens. If you don't want this function, you will have to open both global files and remove the code for this door. All my mods require that the user have certain skill in Simpe. That is why I always allow the user to do what they feel like. Of course they must know how to do it.
Have fun!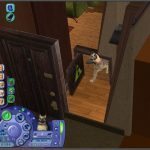 Required Expansion Packs:


You must be a logged in member to download this file