Shoutbox 
Only logged in users are allowed to enter the chat
Staywell Cottage (Views: 0 )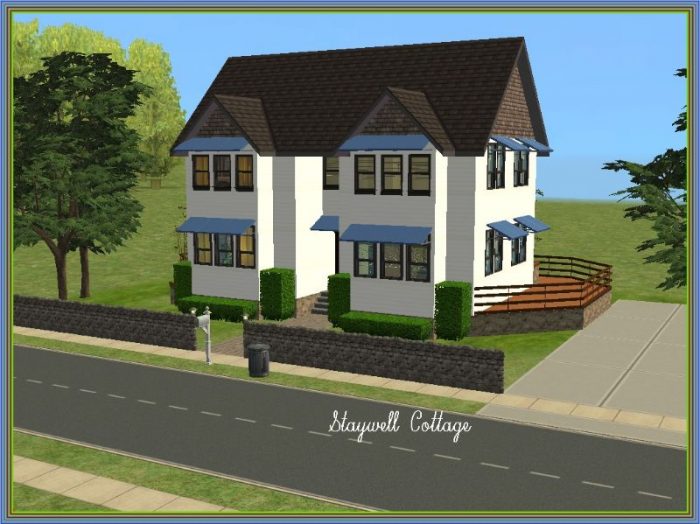 ---
---
Lot Type: Residential
Lot Size: 3×2
Bedrooms: 2
Price: §64016
Condition: Fully Furnished
Extra Info:
Contains custom content
Content is included
Cozy two bedroom, two and a half bath cottage with beautiful hardwood floors, rustic fireplace, grassy yard with large back deck.  Should make a nice place to hang out and focus on skills.
Custom content in the lot is by Lady Angel and myself.
In real life, just thinking of all of you dear people, hoping you're all well.  This should be a great time for some creative sim building.  I have unfortunately forgotten how to do a lot of things I once knew like making custom walls and floors.  I'll be looking for your tutorials, Lady Angel.
---
Lady Angel's Autumn Wood Floor, Autumn Feature Wall – Wainscoting, Autumn Wall Green, Brick Mottle Wall, Izmir Dining Table in Black.
My Modern Awning in Blue Canvas, Two Tile Curtain in Gold, Single Curtain in Gold, Sofa Table in Red, Horizontal Distressed Siding Wall, Olive Stucco Wall
---
---
Required Expansion Packs:




---
You must be a logged in member to download this file