Shoutbox 
Only logged in users are allowed to enter the chat
The Von Trapp Estate (Views: 0 )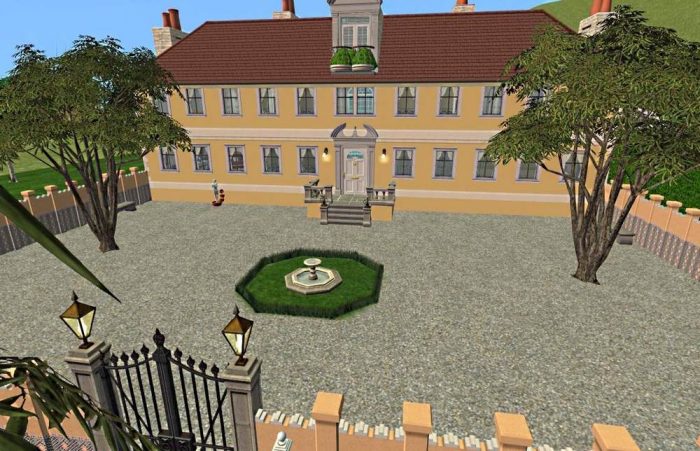 ---
---
Property Type: Residential
Condition: Fully Furnished
Bedrooms: 6
Price: §338,027
Lot Size: 5×6
Extra Info:
Contains custom content
Some content is included
---
This is another Lot I had on mts.
I had a really bad week where I was as sick as a dog (so to speak) so spent most of the time watching old favourites. The Sound of Music of course was in the list and as I sat there I thought that house is rather spectacular and looks fairly simple to build. Right on the first account, wrong on the second! Once I had put the movie on the pc and sat there countless times with my game open and media player constantly belting out 'The Hills are alive' I realised how I'd missed the architecture and then had to figure out what I could use to subsitute. That turned out to be alot of fun, trying to find items that I could place in strategic spots.

Before you download ANYTHING please download OMSPs Revisited and Improved by Silent Lucidity https://www.modthesims.info/d/317716. Otherwise you will find things in funny places once you have downloaded the lot.
I want to immensley Thank Leesester for making me a whole new set of windows for this lot, she was alot of help in the feedback forum, and then compelety blew me away by making such beautiful windows I think if you download this lot, you need to also go and thank her as well as I couldnt have made it look so good without them! https://www.modthesims.info/member.php?u=2168990
Also a big thankyou to the lovely Triciamanly for Marias curtain recolour so the Von Trapp kids can now have play clothes! https://www.modthesims.info/member.php?u=2091775
Without furthor ado I present to you The Von Trapp Estate
This (rather large) house comes complete with:
6 bedrooms
4 bathrooms
A stunning Grand entrance way (perfect for whistle blowing!)
A ballroom (also good to put on a puppet show)
Garden area off the ballroom
Kitchen
Dining Room
Living Room
Terrace (nice on hot days with pink lemonade)
Summer House (For romantic trysts, and proposals)
I have tried to keep Custom content down, I have gotten rid of alot that was in there and subsituted for boring maxis stuff. Also have kept upstairs quite empty just the bare essenstials as it would have made the file alot bigger. Also you may wonder why not many paintings on the walls. If you go through the movie you will notice the lack of artwork, especially the dining room!
Lastly this house is never quite going to be like the one in the movie, because that was two houses. One was used for the front and inside the other other for the terrace leading out to the lake.
Check it all out here https://www.movie-locations.com/movi…undmusic_1.html

Please note, you WILL need Clean Installer to download this lot!
Hope you enjoy playing this lot as much as I have in making it!
---
---
---
Required Expansion Packs:







Required Stuff Packs:






You must be a logged in member to download this file