Shoutbox 
Only logged in users are allowed to enter the chat
Northview University Dorm (Views: 0 )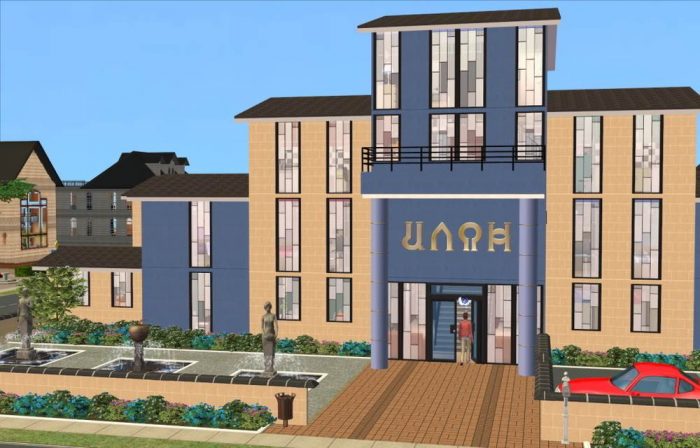 ---
---
Property Type: Dorms
Bedrooms: 9
Lot Size: 4×4
Extra Info:
Contains custom content
Some content is included
---
Northfield University Dorms
Want to go to Uni but don't want to slum it? Want to live as if it's a home from home? Your parents are rich? Well look no further! Northview Dorms has it all. All rooms are doubles and some have a mini kitchen so you don't even have to hike it all the way to the Refectory.
Each room comes with a work station and computer
6 basic dorm rooms (3 for girls, 3 for boys)
2 high-end dorms, both ensuite with mini kitchen
1 luxury penthouse dorm with bathroom, mini kitchen and lounge area
The dorm also boasts:
Gym
Games room
Bar
Disco
Refectory
Computer room
Library
Swimming pool
Car park (deco)
EDIT: I have added a version of the Dorm with the M&G items removed to Leefish, please follow the link below. Apparently if you have Apartment Life lots made with M&G installed will work in your game. Please let me know if there is a problem with this.
https://www.leefish.nl/mybb/showthrea…22410#pid22410
UPDATE: Leefish pointed out that I had only included community phones and not the 'normal ones' the updated file rectifies this. I have also removed the seating in front of the units in the Refectory and blocked the corner unit with deco items so that food is not left to rot and spoil the environment. Thank you Lee for pointing these things out.
---
---
---
Required Expansion Packs:


You must be a logged in member to download this file