Shoutbox 
Only logged in users are allowed to enter the chat
Ocean Rim Apartments (Views: 1,402 )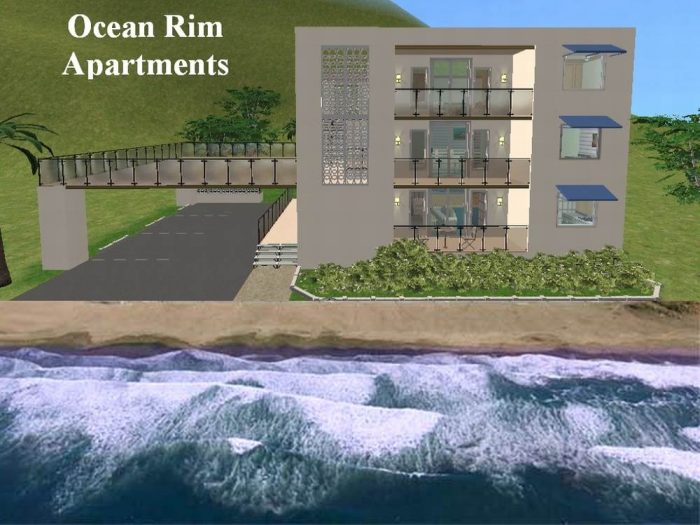 ---
---
Property Type: Residential
Condition: Fully Furnished
Bedrooms: 6
Price: §144,497
Lot Size: 3×3
Extra Info:
Contains custom content
Content is included
---
Wildly expensive in real life, enjoy instead with your base game Sims these beach front apartments with the following ammenities:
2 bedrooms, 2 baths, spacious living and dining, large kitchen and balcony with ocean views
storage units for each apartment
covered parking (for effect only)
pool
shady sitting area
To convert to rentable apartments with AL ep, change front doors, open cheat box and type changelotzoning apartmentbase. Exit to neighborhood and you should see the apartment mailbox.
The file includes a small amount of cc including my Lattice Room Divider with poly count of 7728 face count and too many faces vertex count (not sure what that means, but it didn't slow down my game at all) and also my Modern Awning with poly count of 300.
Place in your beach vacation spot so that your Sims will have all the comforts of home. This is not a beach lot, so place it across the street!
Special thanks to Numenor for his AnyGameStarter
---
---

You must be a logged in member to download this file