Shoutbox 
Only logged in users are allowed to enter the chat
Pastel Way Community Church (Views: 14,432 )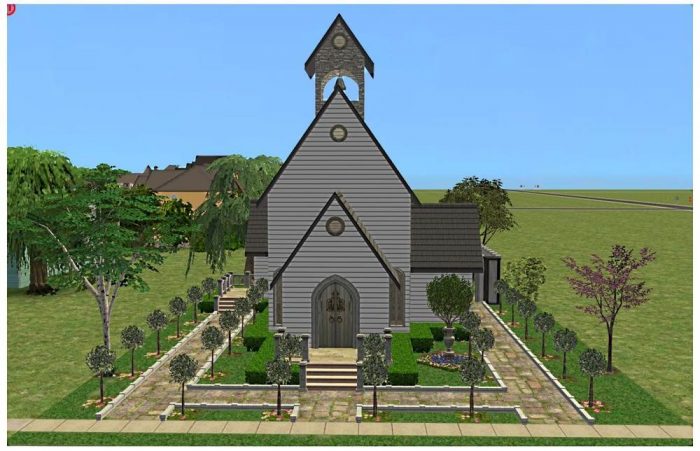 ---
---
Property Type: Community
Lot Size: 3×2
Extra Info:
Contains custom content
Some content is included
---
As I used earlier eps to build this there is no wedding arch included, if you want your sims to get married there will have to add yourself
Theres not really alot to do here at all, just call it a nice quiet place to visit and think! Toilet is there if your sims feel the need! Graveyard to add your lost loved ones.
The phone is located in a box beside the archway leading to the graveyard.
Custom content shown and not included
For the Window Cuttouts in the bell tower to not flash blue you will need to download the fake balcony from mounes spanish build set as this is the master file https://www.modthesims.info/download.php?p=3281854
Had to leave out two items:
two story church window by moon ez https://www.modthesims.info/download.php?t=94095
And also shown and not required but nice for effect
Confessional by DBCAB https://www.modthesims.info/download.php?t=94744
---
– ATS2 Church – Altar by Sandy
– ATS2 Church – Bench by Sandy
– ATS2 Church – Bible by Sandy
– ATS2 Church – Candles Holder by Sandy
– ATS2 Church – Cross by Sandy
– ATS2 Church – Harmonium by Sandy
– ATS2 Church – Lectern by Sandy
– ATS2 Church – Prayer Stool by Sandy
– ATS2 Church – Stoup (deco) by Sandy
– Bootsbrisket's Gravestone #1 by bootsbrisket
– Bootsbrisket's Gravestone #2 by bootsbrisket
– Bootsbrisket's Gravestone #3 by bootsbrisket
– Bootsbrisket's Gravestone #4 by bootsbrisket
– Bootsbrisket's Gravestone #5 by bootsbrisket
– Path to Meadow – brownstones by Gwenke33
– A token of faith to protect your home by KevinsHope
– "A Fairy Tale Romance" Double Archway by Kate
– White Recol Double Archway by Kate
– Sand Recolour Double Arch by Kate
– "A Fairytale Romance" Double Door by Kate
– Sand Recol Double Door by Kate
– "A Fairytale Romance" Light Castle Fence by kate
– "A Fairytale Romance" Single Archway by Kate
– White Recol Single Arch by Kate
– "A Fairytale Romance" Single Door by Kate
– White Recol Single Door by Kate
– "A Fairytale Romance" Tall Window by Kate
– White Recol Tall Window by Kate
– Simple Victorian Gable Vent – Tall (2 Tile) by Kate
– Gable Vent Grey Recol Tall by Kate
– Simple Victorian Gable Vent – Low (2 Tile) by Kate
– Gable Vent recol Grey low by Kate
– Decorative Community Pay Phone Cover by Kate
– Pay Phone Cover White Wash by Kate
– Torrox Wall Cutout – Double Window by moune999
– Headstone 1 by mickyss
– Headstone 2 by mickyss
– Headstone 3 by mickyss
– A Twisted Pedestal by KevinsHope
– Celtic Daily Scripture Cross by KevinsHope by KevinsHope
– Painting 1 by SVjW
– Painting 2 by SVjW
– Chruch Bell by feeEssen
---
---
Required Expansion Packs:




You must be a logged in member to download this file