Shoutbox 
Only logged in users are allowed to enter the chat
The View (Views: 0 )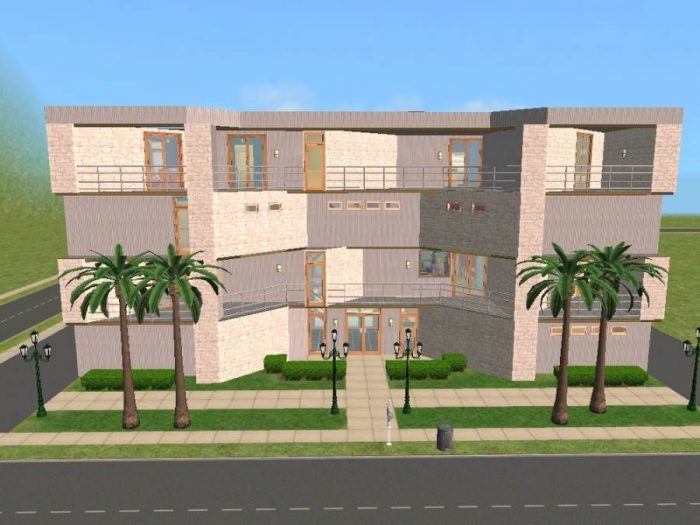 ---
---
Property Type: Residential
Condition: Fully Furnished
Bedrooms: 7
Price: §234,063
Lot Size: 4×3
Extra Info:
Contains custom content
Content is included
---
The View got its name because all of the 5 apartments have balconies with views. Apt. A is a two story apartment with 2 bedrooms and 1 bath. Apt. B has 1 bedroom and 1 bath. Apt. C. has 2 bedrooms and 2 baths, and Apts. D and E each have 1 bedroom and 1 bath. Amenites include a large lounge with chess boards, bookcases, conversation pit, and expresso maker. Your sims will also have a workout room with restrooms and showers, and outside they will enjoy a pool and jacuzzi. There is parking in the rear. The apartments are decorated in bold primary colors, reds, blues, and yellows.
Although base game, this could be convertible to real apartments and since there is a large common area downstairs, it could also be a dorm with cafeteria. I have 5 sims living in a model like this and they all have jobs except one and are forging fast friendships.
small amount of cc by me includes stone wall, vertical gray siding, and two picture recolors.
---
---
You must be a logged in member to download this file