Shoutbox 
Only logged in users are allowed to enter the chat
Von Trapp Hotel – No CC (Views: 0 )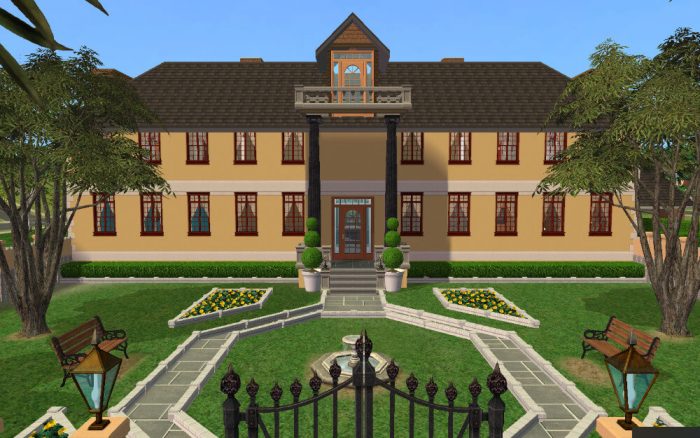 ---
---
Lot Type: Hotel
Property Type: Hotels & Rentals
Bedrooms: 6
Lot Size: 5×6
---
The Von Trapps have long since departed, but in their honour, this grand hotel now stands where they once resided. With it's luxurious atmosphere and grand gardens, it's the perfect getaway for those Sims wanting to soak in a piece of history.
This lot has been converted, with the kind permission of @ekrubynaffit, from the amazing Von Trapp mansion. It contains no custom content.
I always knew I wanted to convert this, but only recently got around to it! It consists of:
Downstairs:
Lobby
Restaurant
Music Room
Events Room (with buffet table)
Upstairs:
4 Double Bedrooms
1 Single Bedroom
1 Twin Bedroom
Most of the bedrooms have Jack-and-Jill bathrooms, but there are plenty of bathrooms for the ones that don't.
The landscaped gardens have plenty of seating and shelter for those who like the outdoors. I've kept the decor as near as possible to the original, but it's lost something without the cc.

This has been play-tested and works perfectly, but if you notice any issues, please let me know.
---
---
Required Expansion Packs:










Required Stuff Packs:











You must be a logged in member to download this file