Shoutbox 
Only logged in users are allowed to enter the chat
Downton Abbey (Views: 12,450 )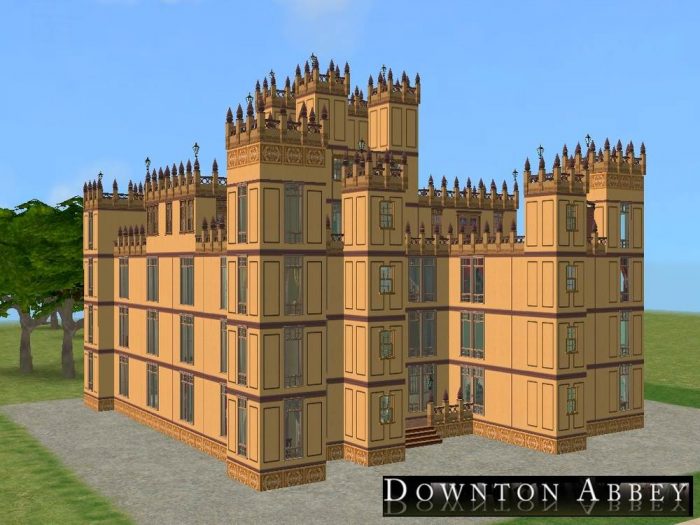 ---
---
Property Type: Residential
Condition: Fully Furnished
Bedrooms: 10
Price: §350,654
Lot Size: 5×4
Extra Info:
Contains custom content
Content is included
---
Here is my far from perfect, full of creative license, version of Downton Abbey. We just finished watching season 4. I feel sorry for Edith. Why doesn't she confide in Mary? I know Mary would support her. Mary seems rather cold, but she loves deeply.
I have created a lot of cc for this lot. First, my castle railing/fence. I worked hard, but my texturing is not so good. However, i bet you never take your sims up on the roof when you play with this lot. It's all about play quality. The top floor has two unfurnished suites which you will probably never use either. I was trying to keep the file from being too huge. Back to the fence, here is a close up so you know what you're getting:
The house has 10 furnished bedrooms (including two servants' rooms) and 12 bathrooms. Each family bedroom has its own private bath.
I didn't try to recreate the exact floor plan or decor because for me that would be impossible. I was striving for a luxurious feel. I've had some fun play testing. Living in my test copy are Lord and Lady Grantham, Mary, Edith, Thomas, and Daisy. The play is fairly smooth, good enough to be fun in such a large lot. I couldn't wait to share Downton Abbey with you Brits!
Extra Info Walls, floors, bedspreads, and painting recolors by me or my alter ego, millyana
---
---
Required Expansion Packs:



You must be a logged in member to download this file